8 Things to Consider After a Car Accident During the COVID-19 Pandemic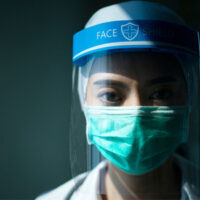 Auto accidents continue to happen in Miami and all across Florida, even during the state's stay-at-home order. From driving to a grocery store to performing other "essential" activities, people still get into car accidents during the COVID-19 pandemic.
While traffic volume has decreased substantially during the coronavirus crisis, mostly because more people are staying at home and have nowhere to go due to nationwide lockdowns, vehicle crashes are still a major concern.
Things to Consider When Filing a Car Accident Claim During the COVID-19 Pandemic
Those who were in a car crash during the coronavirus pandemic might be wondering, "Can I file a personal injury claim during the pandemic?" While the answer is "yes," there are several things you need to consider when filing your auto accident claim:
Seek medical attention despite COVID-19 infection fears. Although emergency rooms are still open, many of those who got injured during the pandemic are reluctant to visit hospitals out of fear of contracting coronavirus. However, doing so may negatively affect your chances of recovering damages because you need to document your car accident injury and begin the appropriate treatment.
Contact your healthcare provider before visiting. If you need treatment during the COVID-19 pandemic, you may need to set up a schedule since many providers in Florida have postponed non-essential medical procedures in response to Gov. Ron DeSantis's order to suspend all "elective medical procedures."
Take all safety precautions when going to a hospital. While it is true that there is a heightened risk of contracting coronavirus in a hospital, you can minimize COVID-19 exposure by taking safety precautions such as frequently washing your hands, practicing social distancing, using sanitizers, avoiding touching your face and surfaces, and following other tips outlined by the Centers of Disease Control and Prevention (CDC).
Monitor your coronavirus symptoms for two weeks. After visiting a hospital following a car accident, stay alert for possible exposure to COVID-19 for the next 14 days. Check your temperature every day and be sure to contact your healthcare provider if you notice any COVID-19 symptoms, including fever, loss of taste or smell, cough, shortness of breath, and any of these other symptoms. Note: Contracting coronavirus on top of your serious injury after the car crash can delay your healing.
Document your case. Documenting your case is critical during these unprecedented times, mainly because the pandemic may cause interruptions to your treatment and legal case. If your treatment is delayed or your healthcare provider cancels your appointment during the coronavirus pandemic, take note of this.
Do not accept lowball settlement offers. While it might be tempting to get at least any amount of quick cash, accepting a lowball settlement offer after a car crash can be a huge mistake. Unfortunately, many insurers are taking advantage of the financial uncertainty caused by the pandemic, which is why they may put pressure on car accident victims to accept lowball settlements.
Prepare for delays. Given that the COVID-19 pandemic paralyzed Florida's court system, there may be delays in your legal case after an auto accident. As many law firms across Florida closed their offices in response to the pandemic, it can be difficult to get answers to your questions. However, our staff at Pita Weber Del Prado are still diligently working on our clients' cases and offering free consultations.
Contact an attorney. Since it can be challenging to handle a car accident case during the coronavirus pandemic and you may feel increased pressure from insurance companies to accept a lowball settlement, it is critical to hire a Miami car accident attorney more than ever before.
Contact Pita Weber Del Prado to schedule a free consultation to explore your legal options in the coronavirus era. Call at 305-670-2889 for a case review.
https://www.pwdlawfirm.com/personal-injury/covid-19/covid-19-can-you-sue-a-nursing-home-for-coronavirus-wrongful-death/