Can a Nursing Home Be Sued for Exposing Your Loved One to COVID-19?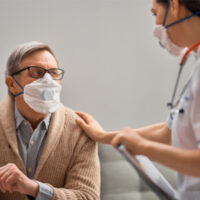 Older adults are the most vulnerable category of people to the coronavirus disease. While some nursing homes across Florida prioritize the safety of their residents by adopting serious precautionary measures to curb the spread of COVID-19, many facilities fail to minimize the exposure.
In fact, at least 19 long-term care facilities, including nursing homes, across Florida have failed to prevent the coronavirus disease from entering their facilities, as evident from a March 19 report by WWSB. That number may be much higher now.
But is the facility's failure to prevent or stop the spread of the virus considered nursing home abuse or neglect? Can family members sue the facility if their loved one contracts COVID-19 or dies from the disease?
Coronavirus (COVID-19) in Nursing Homes
In February, the COVID-19 outbreak at a nursing home in Kirkland, Washington, infected at least 129 people, including residents and staff members. Of these, at least 35 died. Similar outbreaks then occurred at nursing homes in Seattle, Georgia, Illinois, and Florida.
Because older adults over 65 are at higher risk for severe complications of COVID-19, health officials issued guidance for nursing homes and long-term care facilities to implement strict measures to reduce the risk of coronavirus spread.
Unfortunately, not all nursing homes have adopted those precautionary measures to prevent the rapid spread of the coronavirus disease at their facilities, exposing hundreds, if not thousands, of their residents to the deadly virus.
'Reasonable Measures' to Prevent Coronavirus Spread at Nursing Homes
When it comes to liability in a coronavirus-related claim against a nursing home – or any other personal injury claim for that matter – much will depend on whether the facility and its staff members had taken "reasonable measures" to prevent the viral outbreak. Luckily, the Centers for Disease Control and Prevention issued guidelines for preventing the coronavirus spread at nursing homes:
Proper hand hygiene
Restricting visits with outsiders and infected patients
Wearing face masks and other protective equipment
Not allowing sick staff members to interact with residents
Reviewing and improving contact isolation procedures
Separating infected residents from healthy ones
Posting hygiene recommendations in public areas at the facility
Educating facility staff on how to treat residents with coronavirus symptoms
Suing a Nursing Home for COVID-19
So, do family members of nursing home residents have grounds to sue the facility for exposing their loved ones to COVID-19? Generally, yes. However, liability depends on whether the nursing home took reasonable measures to address the coronavirus pandemic. If the facility failed to adopt precautionary measures in time, you might have a valid nursing home neglect case.
You need help from a Miami nursing home abuse attorney to prove that the facility's negligence caused your family member to become infected with the coronavirus. If your loved one manifests COVID-19 symptoms, do not hesitate to contact their primary care physician to administer the coronavirus test.
Speak with our attorneys at Pita Weber Del Prado to discuss negligence in your case. Call at 305-670-2889 to get help.
Resource:
mysuncoast.com/2020/03/19/residents-long-term-care-facilities-across-florida-have-or-are-suspected-having-coronavirus/
https://www.pwdlawfirm.com/medical-malpractice/is-it-medical-malpractice-if-doctors-misdiagnose-coronavirus-covid-19/