Can I Sue Drug Companies for COVID-19 Vaccine Side Effects?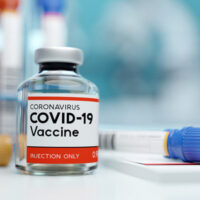 While Americans are divided over whether to get a COVID-19 vaccine, many are concerned about the pharmaceutical companies' immunity from potential liability lawsuits over possible side effects.
In other words, if you experience any side effects after getting a COVID-19 vaccine, you may not be able to sue the drug company that manufactured the vaccine.
Why can't you sue pharmaceutical companies for injuries and side effects caused by the COVID-19 vaccine?
That's because the federal government has granted pharmaceutical companies like Moderna and Pfizer civil immunity from liability. Drug companies typically do not enjoy that much liability protection. However, since the COVID-19 vaccine received emergency approval from the U.S. Food and Drug Administration, drug companies like Moderna and Pfizer are immune from liability.
Moreover, Americans may not even be able to sue the FDA or the U.S. government for authorizing the COVID-19 vaccine for emergency use if they experience severe side effects or bad reactions.
In early 2020, the federal government enacted the Public Readiness and Emergency Preparedness Act (PREP Act) that provided immunity to companies from civil actions related to the manufacturing, testing, and development of the COVID-19 vaccine. The legal protection lasts until 2024. It does not, however, provide immunity to drug companies if their actions constitute "willful misconduct."
It means that the pharmaceutical companies that were granted civil immunity cannot be sued for financial losses and damages suffered by people who take the COVID-19 vaccine and experience any side effects unless there is evidence of willful misconduct on the part of the manufacturer.
Also, you cannot even file a lawsuit against the U.S. government if you experience any side effects after the COVID-19 vaccination because of sovereign immunity.
Can you recover any damages if you experience side effects after taking the COVID-19 vaccine?
While the PREP Act protects pharmaceutical companies from civil liability, the federal government created a program to allow injured people to recover damages if they suffer serious injuries due to immunization.
As part of the PREP Act, the U.S. government created the Countermeasures Injury Compensation Program (CICP) that pays compensations to eligible persons who get hurt due to vaccination.
However, since the program was established by the government ten years ago, it agreed to pay benefits to fewer than 6% of the claims, according to CNBC. Even if your request for reimbursement is approved, your damages are limited to up to $50,000 per year to reimburse you for the loss of income and out-of-pocket medical expenses.
Also, the program provides up to $370,376 in death benefits in the event a family member dies as a direct result of taking the COVID-19 vaccine.
In these times of uncertainty, laws regarding the COVID-19 vaccine and drug companies' immunity from liability change all the time. That's why it is vital to consult with a Miami product liability attorney to discuss your particular situation and determine whether you can sue a drug company or the government for COVID-19 vaccine side effects.
Schedule a consultation with our lawyers at Pita Weber Del Prado by calling 305-670-2889.
Resource:
hhs.gov/about/news/2020/12/03/hhs-amends-prep-act-declaration-including-expand-access-covid-19-countermeasures-telehealth.html
cnbc.com/2020/12/16/covid-vaccine-side-effects-compensation-lawsuit.html
https://www.pwdlawfirm.com/personal-injury/how-long-will-it-take-for-an-insurance-company-to-pay-out-my-personal-injury-claim/