COVID-19: Can You Sue a Nursing Home for Coronavirus Wrongful Death?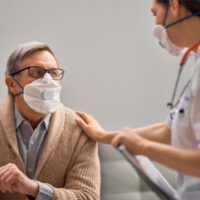 As an increasing number of nursing homes and long-term care facilities in Florida are becoming hotbeds of COVID-19 cases, family members of those living in these facilities are wondering whether they can file a wrongful death claim if their loved one died after becoming infected with coronavirus.
While the coronavirus disease continues to ravage nursing homes across Florida, the state's most powerful nursing home organization, the Florida Health Care Association, sent a letter to Governor Ron DeSantis asking him to grant them immunity from legal claims, including wrongful death lawsuits, arising from the COVID-19 outbreak.
A staggering nearly 2,500 long-term care facilities in 36 states have been affected by COVID-19, according to data gathered by NBC News based on responses from the state agencies. According to the report, over 2,200 people died in nursing homes and long-term care facilities based on responses from 24 states, though many key states, including Florida, did not provide data.
Family Members Are Suing Nursing Homes for Coronavirus Wrongful Death
Older adults are more vulnerable to severe complications from COVID-19 than other age groups. In light of this, nursing homes, long-term care facilities, and assisted living facilities must adopt all reasonable measures and take extra precautions to protect their residents.
If they don't, surviving family members of those who die from coronavirus due to the facility's failure to take reasonable precautions to minimize the spread of COVID-19 may be able to file wrongful death lawsuits to recover damages.
In fact, families of those who died in nursing homes are already filing wrongful death lawsuits. As reported by Reuters on April 11, 2020, a woman whose mother died from COVID-19 at Life Care Center in early March sued the company that owns the facility.
The coronavirus outbreak at Life Care Center in Kirkland, Washington, killed at least 35 people. The woman is suing the facility's parent company, Life Care Centers of America, for wrongful death, alleging that the company concealed important facts about the outbreak before her mother died. Life Care Centers of America has more than 220 other facilities across 28 states.
The lawsuit against Life Care Centers of America accuses the facility of "failing to disclose material facts" to its residents and their relatives. This alleged failure to disclose key facts about the coronavirus outbreak was intended to persuade residents to stay at the facility "in an environment, and under the care of individuals and entities, dangerous to her health and safety," the lawsuit said.
Can You File a COVID-19 Wrongful Death Against a Florida Nursing Home?
The coronavirus disease is infiltrating nursing homes in Florida and killing their residents at a disturbing rate. In early April, the Sun-Sentinel reported that at least seven residents died from COVID-19 in a Fort Lauderdale-based assisted living facility.
After the outbreak, which infected at least 20 residents, Gov. DeSantis said that the facility's residents might have been exposed to the virus because the facility failed to take precautions and allowed sick workers to continue working without appropriate screening.
Failure to take all reasonable precautions to prevent the spread of COVID-19 in a nursing home, including implementing health screenings for staff, may constitute nursing home neglect. If your family member died in a nursing home after contracting coronavirus, you might have grounds to sue the facility for wrongful death.
Contact our Miami wrongful death attorneys at Pita Weber Del Prado to investigate your case. Call at 305-670-2889 to receive a consultation.
Resource:
sun-sentinel.com/coronavirus/fl-ne-seventh-senior-dies-atria-willow-wood-nursing-home-20200406-aydoubszjnh2lm3vq4eroomxcm-story.html
reuters.com/article/us-health-coronavirus-lawsuit/seattle-area-nursing-home-hit-with-wrongful-death-lawsuit-over-coronavirus-death-idUSKCN21T00Q
nbcnews.com/news/us-news/more-2-200-coronavirus-deaths-nursing-homes-federal-government-isn-n1181026
documentcloud.org/documents/6834898-DeSantis-Letter-Immunity-FNL.html
https://www.pwdlawfirm.com/personal-injury/covid-19/how-coronavirus-affects-floridas-personal-injury-cases/