Does Florida Have a 'Dram Shop Law' to Sue a Bar for a Drunk Driving Crash?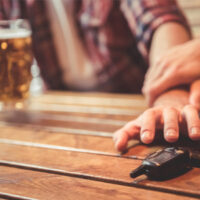 Can a bar, restaurant, nightclub, or any other alcohol-serving establishment be sued for a drunk driving accident if it served alcohol to an intoxicated person who later got behind the wheel while impaired and caused a car crash?
Yes, under Florida's dram shop law, an establishment or vendor can be held partially liable for any injuries caused by a drunk driver. However, doing so can be tricky.
Florida' Dram Shop Law and Liability in Drunk Driving Accidents
Dram shop law – also known as dram shop liability statute – extends civil liability for harm caused by the negligent acts of intoxicated individuals to establishments, including bars, restaurants, and nightclubs, that served them alcoholic beverages.
Florida Statutes Section 768.125 – or the so-called dram shop law – allows a person injured in a car crash caused by an impaired motorist to sue a bar or another establishment that sold or otherwise provided alcohol to its intoxicated customer with a drinking problem.
The law explicitly states that an establishment that "willfully and unlawfully" sold or furnished alcohol to a minor or "knowingly" served an individual who is "habitually addicted to the use of any or all alcoholic beverages" can be held liable for resulting harm caused by the intoxicated person's acts.
While many other states make establishments and vendors liable for a personal injury caused by a drunk driving accident if they served alcohol to a person who is visibly intoxicated, Florida only allows to sue a bar or another establishment if they served alcohol to a "habitually addicted" adult or a minor.
Under Florida's dram shop law, social hosts cannot be held liable for resulting damages caused by serving alcohol to an individual at a private event or party, even if the drunk person is "habitually addicted." Instead, the social host can face charges for serving alcohol to a minor.
How to Make a Dram Shop Claim in Florida
In Florida, a person who was injured in a drunk driving crash has four years to bring a claim against the bar or another establishment that served alcohol to the at-fault driver. After the statute of limitations runs out, the victim will be barred from suing the bar.
The basis of a claim against a bar under the dram shop law is negligence. In order to prove negligence on the part of an alcohol-serving establishment, the victim must establish four elements:
Duty of care
Breach of duty
Causation
Damages as a result of injury
Also, you will have to substantiate your dram shop claim with evidence. Doing so may be tricky, especially if you need to prove that the at-fault motorist, who caused the drunk driving crash, is a habitual drunkard.
It would be even more complicated to prove that the establishment knew or should have known that the person had a drinking problem when selling him or her the alcoholic beverage. In this situation, you need a Miami car accident attorney who will help you collect evidence and establish the four elements of your dram shop claim.
After all, you may not be able to obtain certain types of evidence without a court order. That's where our Miami car accident attorneys at Pita Weber Del Prado can help to assist you in your dram shop case. Call at 305-670-2889 for a consultation.
https://www.pwdlawfirm.com/personal-injury/5-personal-injury-myths-in-florida-that-still-persist-in-2020/