Drunk Female Driver Hits a Miami Police Officer in a DUI Crash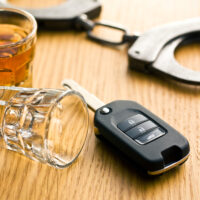 Every year, more than 1 million car drivers are arrested for drunk driving. One such arrest occurred in Miami on September 12.
The DUI accident took place when 33-year-old Belkis Salgado, who was visibly intoxicated at the time of the crash, slammed her car into a Miami police officer's unmarked police cruiser, according to CBS4.
The police officer named Mario Gonzalez was working off-duty on a construction site detail. The crash occurred at NW 3rd Avenue and 14th Street. After the DUI accident, Gonzalez, 39, was transported to Jackson Memorial Hospital where he was treated for a shoulder and brain injury.
If you were hit in a DUI crash in Miami, reach out to a Miami car accident attorney at Pita Weber Del Prado to obtain reimbursement for your injury and damages from the drunk driver.
Was the Female Driver Intoxicated at the Time of the Crash?
According to Mike Vega, the President of the Miami police union, Gonzalez parked his unmarked police cruiser with his lights on when the DUI crash happened. When the police arrived, the female driver's speech was slurred, her breath reeked of alcohol, and she had bloodshot eyes.
Furthermore, Salgado reportedly lost her balance and even became combative when requested to do a roadside sobriety test. Although the police did conduct the roadside sobriety test, Salgado refused to take a breath analyzer test.
Salgado was arrested and charged with driving under the influence, DUI with bodily injury, and refusal to do a breathalyzer test after the crash.
After Salgado's first court appearance, she was placed under house arrest with a bond of $10,000. Also, the judge ruled that Salgado must submit to random drug and alcohol tests.
Salgado reportedly admitted to refusing two DUI tests while living in Virginia in the past. Moreover, she had just been arrested for petit theft shortly before the DUI accident in Miami.
The Danger of Drunk Driving Crashes
Car accidents involving drunk drivers tend to be more serious than other crashes. When a motorist is intoxicated, their reaction time is slower, they are more likely to lose control of the vehicle, and they may be unable to avoid a collision.
Overall, the risk of violating or disregarding traffic rules is significantly higher when a motorist has a blood alcohol concentration (BAC) of .08% or more.
DUI crashes tend to be associated with more serious injuries and more fatalities. According to the CDC, alcohol is to blame for nearly a third of all automobile accident deaths in the U.S.
In crashes involving an intoxicated driver where he or she fails to hit the brakes or slow down, the collision transfers more momentum to the other vehicle, which can cause more substantial injuries and even wrongful death.
Recovering Damages After a DUI Accident
In Florida, you can recover compensation by either filing an insurance claim or suing the at-fault drunk driver. In order to sue, your DUI crash must involve permanent injuries or injuries worth over $10,000.
In some cases, the victim might be able to hold a bar responsible for injuries caused by an intoxicated motorist.
Florida is a no-fault insurance state, which means auto insurance may cover your damages if your injuries are worth less than $10,000. In that case, however, you might still have to take your case to court if the insurance is insufficient to cover your damages.
Speak to a Miami car accident attorney from Pita Weber Del Prado to discuss your case. Call at 305-670-2889 or fill out the contact form for a free case evaluation.
Resource:
miami.cbslocal.com/2019/09/12/miami-police-officer-head-injury-crash/
cdc.gov/motorvehiclesafety/impaired_driving/impaired-drv_factsheet.html
https://www.pwdlawfirm.com/car-accidents/the-police-report-matters-in-your-car-accident-case-2/