How To (Safely) Enjoy Spring Break In Miami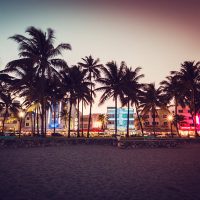 Spring break is one of the most popular times for people to visit Miami. Crowds consist of both college students looking to blow off some steam during semester breaks and families taking advantage of vacation time to flee still cold northern temperatures. Whether you fall into one of these demographics or are a local resident, it is important to be aware of the risks. Personal injuries in Miami tend to spike at this time of year. Find out some of the biggest hazards and tips to help you enjoy spring break in Miami safely.
Visiting Miami For Spring Break? Know The Risks  
Miami has always been popular with spring breakers. While the city welcomes them and the revenue their tourist dollars bring, certain areas have had to set limits to protect the safety of everyone involved.
A March 27, 2022 Miami Herald news report states that many visitors were disillusioned when South Beach put an emergency curfew in place. After several shootings in the area the prior weekend, a midnight curfew was imposed south of Dade Boulevard and went the additional step of restricting alcohol sales after 6:00 p.m. Many South Beach business owners were unhappy with the move, as disappointed tourists looking for late-night fun flocked to the downtown Miami area instead.
While the curfew may help to prevent random acts of violence in the immediate area, it does little to address some of the other risks associated with spring break in Miami. Common types of accidents which typically spike at this time of year include:
Car accidents;
Motorcycle accidents;
Pedestrian accidents;
Boating accidents.
Speeding, running red lights, tailgating, failing to yield, and distracted driving are all common causes of these accidents. Alcohol use is also a frequent contributing factor in all of the above and increases the risks of other common causes of personal injuries, such as slips and falls. 
Safety Tips For Spring Break In Miami
Whether you are traveling to Miami for spring break from other areas or are a local resident eager to enjoy some time off, taking a few simple precautions can help reduce the risk of personal injuries. Miami-Dade County offers a number of safety tips. These include:
Pay close attention to your surroundings when driving, walking, boating, or riding bikes;
As a pedestrian, stick to sidewalks and cross only at designated intersections;
When driving, obey all traffic laws and watch your speed;
When visiting beaches, never swim alone;
Stay with a group of people when going out at night;
Avoid excess alcohol use in all situations;
Be aware that lack of sleep can mimic the same effects as alcohol, making you more accident-prone.
When Accidents Happen, Contact Our Miami Personal Injury Lawyers 
At Pita Weber Del Prado, we want you to enjoy your spring break safely. When accidents do happen, our Miami personal injury lawyers are here to help you get the compensation you need to recover. Give our office a call at 305-670-2889 or contact us online to request a consultation today.
Source:
miamiherald.com/news/local/community/miami-dade/miami-beach/article259709880.html