Liability for Construction Accidents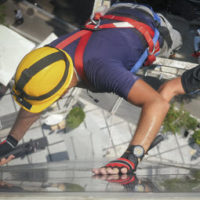 Construction sites are locations fraught with danger, which is why they are typically fenced-off and/or guarded, and people authorized to be on the site must wear protective headgear and reflective clothing. In most cases, the safety precautions taken by construction companies and their employees results in very few, if any, accidents. Unfortunately, partly due to the heavy equipment in use at construction sites, accidents at construction sites do occur. In some cases, the injury is severe enough to warrant a discussion with a personal injury attorney experienced in construction accidents. Recently, a crane collapse at a Fort Lauderdale construction site caused a worker to suffer injury to his foot. A discussion of typical construction site accidents, as well as who can be held liable for any resultant injuries, will follow below.
Common Construction Site Accidents
As alluded to above, there are many protective safeguards implemented at construction sites to protect workers. Accordingly, it goes without saying that non-use of these safeguards is the cause of many accidents. Additionally, improper use of the tools on hand cause accidents as well. Some of the more common examples of construction site accidents include:
Falls;
Being struck by an object;
Electrocutions;
Getting caught in or between equipment;
Slip and falls;
Tool, machinery, vehicle, ladder and/or scaffolding accidents; and
Injuries to the muscle and/or skeleton.
Liability, Generally
As a result of these potential dangers, if an individual is injured while working at a construction site, it is crucial to determine who is responsible, and thus, legally liable, for the injury. Generally speaking, injuries sustained during an individual's employment are covered by that individual's employer's workers' compensation policy. Thus, in the majority of construction site accidents, reimbursement would come from the worker's compensation insurance company. However, in some cases, another person or company may be at fault. Further, the employer may still be held at fault, even with workers' compensation coverage, if the injury was the result of intentional acts or gross negligence. In all cases, an attorney with experience in construction accident law can help ensure the appropriate reimbursement is made to the injured worker.
Third Party Liability
When a person or an entity other than one's employer caused an injury at a construction site, it may be possible to hold them accountable for the injury. Some of the more common persons or entities present on a construction site include:
The owner of the land on which the construction is taking place (their liability is dependent upon their control over the site, i.e., whether the control is given to the contractor);
Contractors (general contractors are responsible for making sure a construction site is safe, and must take appropriate steps to fix any dangers; they are also responsible for all the workers on the site, including ensuring they are working in a safe manner);
Subcontractors (who have these same responsibilities as general contractors for those workers under their control);
Designers, such as engineers and architects (typically, designers are responsible for ensuring the structure is safe, and may be liable if the safety of the structure is abrogated as a result of a design flaw); and
Equipment manufacturers (liability may attach if they provide a defective machine, or if the machine was designed in a dangerous manner).
To succeed in a lawsuit for injuries on a construction site as a result of third party action, the rules of negligent conduct apply. In other words, the injured party must prove the defendant's action or inaction was the primary cause for any injuries that resulted.
Seek Legal Advice
If you, or a loved one, sustained an injury on a construction site, contact the attorneys at Pita Weber Del Prado as soon as possible. We have experience in construction accidents, and will work with you to get you the compensation you deserve. Contact our Miami office today for an initial consultation.
Resource:
sun-sentinel.com/local/broward/fort-lauderdale/fl-reg-fort-lauderdale-crane-crash-20180503-story.html