Miami Drivers Are Stressed Out About These 3 Things, Study Shows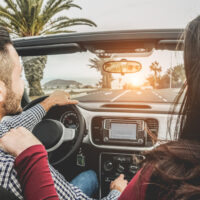 Miami motorists experience anxiety and driving stress for a variety of reasons. But a new study has pinpointed the biggest causes of stress among Miami drives.
A new study released by TrueCar, Inc explored the worst driving anxieties of drivers in major metropolitan areas. Miami was included in the study.
The automotive pricing platform noted that only about one in three people in the U.S. actually enjoys driving.
Three Biggest Stressors for Miami Drivers
The company broke down what drivers of different metropolitan areas stress over most. For example, Philadelphia drivers hate driving near a police vehicle, while motorists in Washington, D.C., are anxious about parallel parking. In New York, drivers hate driving at night, according to the study.
But what about Miami? What are the most significant stress factors for motorists in Miami? The top three stressors for drivers in the sixth most densely populated major city are:
Driving another person's car;
Driving through yellow lights; and
Merging onto the highway.
Has another driver caused a car crash when attempting to drive through a yellow light? Speak with our Miami car accident attorney from Pita Weber Del Prado to discover your best course of action to recover compensation.
Negligent Driving Behaviors Among Miami Drivers
Connie Ogle, a contributing writer at the Miami Herald, noted that Miami drivers have "much scarier things" to be stressed out about than yellow lights. These stressors include having to pay $11 to drive in the express lanes, "mysterious" highway shutdowns that last for several days, and operating a vehicle behind trucks on the Palmetto.
Ogle also highlights negligent driving behaviors in Miami that often lead to car accidents:
Drivers just merge on a highway without thinking much about it;
Motorists never look in a rear-view or side-view mirror or out a window because "that's the other guy's problem";
Drivers get distracted because they are trying to answer that text; and
Motorists rarely use turn signals because those are "for the weak."
Obviously, some of these statements are an exaggeration, but our Miami car accident attorney has seen it time and time again: Drivers in Miami routinely engage in negligent driving behaviors.
In fact, a recent study ranked the worst drivers in the U.S., and Florida came in at No. 4 in terms of the number of dangerous motorists.
Yellow Light-Related Car Accidents in Miami
The fact that so many Miami drivers are anxious about yellow lights may have something to do with local authorities implementing longer intervals for yellow lights at all intersections that have red-light cameras in 2013.
Under Florida traffic law, a yellow light warns motorists that "the related green movement is being terminated" or that a red light "will be exhibited" shortly, preventing vehicular traffic from entering the intersection.
Driving through a yellow law is illegal in Florida. It is important to always approach intersections with caution, especially when driving behind a car entering the intersection. After all, that car may slam on the brakes to stop before the light turns red at any given second. In that scenario, you could rear-end the vehicle whose driver slammed on the brakes, which would make it difficult to establish fault in your personal injury claim.
If your car crash involved a yellow light, contact our Miami personal injury attorneys from Pita Weber Del Prado to establish fault and discover your options. Call at 305-670-2889 to schedule a free case evaluation.
Resource:
truecar.com/blog/driving-anxieties/
orlandosentinel.com/news/os-xpm-2013-09-27-os-yellow-light-times-20130927-story.html
miamiherald.com/miami-com/miami-com-news/article235771627.html
https://www.pwdlawfirm.com/personal-injury/miami-named-one-of-the-best-driving-cities-in-the-u-s-but-why/