News Report Raises Alarms About Brightline Crossing Accidents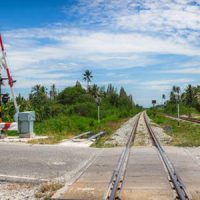 Personal injuries typically occur due to the reckless and negligent actions of others. Being aware of potential risks and taking some simple precautions can help to prevent them in some cases. A recent news report raises alarms about Brightline crossing accidents and the importance of taking precautions to prevent serious injuries.
Brightline Trains Among Most Dangerous In The Country 
People who live in Miami and throughout South Florida routinely rely on Brightline rail service as a convenient, cost-effective way to travel. However, whether you take the train or simply encounter it as part of your commute, it is important to be aware of the potential hazards it poses.
According to a July 28, 2022 NBC Miami News report, Brightline is considered one of the most dangerous passenger rails in the country. This is largely due to the number of rail crossing accidents that occur each year. Since the rail service launched in 2018, there have been more than 85 accidents. While negligence on the part of train operators and company executives plays a role, failure to follow standard safety practices when crossing is a serious problem.
As part of its report, the news station put hidden cameras at the three Brightline train stations, in Miami, Fort Lauderdale, and West Palm Beach. What the found was a pattern of dangerous behavior:
Motorists and pedestrians crossing train tracks in undesignated areas;
Motorists failing to slow down or stop as train warning lights began flashing;
Motorists and pedestrians thinking they could out race impending trains, underestimating the speed at which they travel.
Brightline trains typically reach speeds of 60 to 70 miles per hour. Even if a train appears far away, it can close distance quickly. There is also the risk of getting caught on the tracks as a train is approaching, either due to being blocked in by traffic or stuck on rails.
Protect Yourself Against Train Crossing Accidents
According to the Federal Railroad Administration (FRA), Miami-Dade is one of the top counties in the country when it comes to train crossing accident risks. Brightline has an obligation to make safety a top priority and can often be held liable when accidents do happen. Even if you were partially at fault, such as in a train crossing accident, you may still be entitled to compensation.
However, the goal is to prevent these types of crashes and the serious injuries they result in from happening to begin with. Our Miami personal injury attorneys recommend these tips:
Steer clear of train tracks when walking;
As a driver or pedestrian, only cross at designated intersections;
Never try to go over, under, or around crossing gate arms;
Stay back a safe distance as the train passes and wait for it to clear completely before attempting to cross.
Contact Our Miami Personal Injury Lawyers
When train accidents happen, Pita Weber Del Prado help victims get the compensation they need to recover. Call 305-670-2889 or contact our Miami personal injury lawyers online today to schedule a consultation.
Sources:
gobrightline.com/
nbcmiami.com/investigations/here-are-the-brightline-crossings-with-the-most-accidents-in-south-florida/2823064/
railroads.dot.gov/