Older Adults At Higher Risk For Personal Injuries In Miami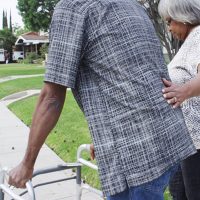 Miami has many older adult residents who lead active lifestyles. However, there are some issues that go along with aging which can impact your quality of life while increasing the likelihood of accidents. There is an Older Americans Month and our Miami personal injury lawyer wants you to be aware of the risks.
Age-Related Impacts That Increase Miami Personal Injury Risks
Older Americans Month was first started in 1963 by President John F. Kennedy. At the time, nearly a third of the then 17 million older Americans were living in poverty and there were few programs available to help meet their needs.
Today, things are far different for the more than 65 million older Americans. There are numerous social service programs, their financial status and overall quality of life have improved, and most remain active and involved in their communities for far longer. However, certain types of age-related impacts are inevitable that can impact safety. These include:
Reduced mobility, due to joint and muscle issues;
Reduced coordination, making it more difficult to perform certain tasks;
Reduced strength, making it harder to bounce back in certain situations;
Reduced vision and hearing, creating challenges in terms of maintaining independence.
There is also an increased risk of chronic health conditions and serious illnesses, as well as increased medication use. All can combine to make personal injuries in Miami more likely to happen among older adults.
Preventing Accidents Among Older Adults
Part of the purpose of Older Americans Month is to focus on the many past and current contributions made by older adults in our communities. However, it also serves to call attention to the challenges they face and ways to protect their health. Preventing accidental injuries is an important area to address.
Older adults face major risks when it comes to slips, trips, or falls and motor vehicle accidents, which are among the leading causes of personal injuries in Miami. If you are over 65, take these steps to protect yourself and reduce your risks:
Speak to your doctor about how chronic health conditions or medications you are taking could increase your accident risks;
Determine whether you need to limit certain types of activities;
Be open-minded about medical devices, such as a cane or walker, which can help prevent accidents;
Look for ways to make your home safer and more accessible;
Consider whether you need additional help, such as housekeepers, meal delivery services, or having a friend take you to doctor appointments.
If you have older adult family or friends, discuss age-related impacts with them in a respectful manner, be aware of common concerns, and look for ways to help.
Contact Our Miami Personal Injury Lawyer
While age-related declines can make accidents more likely to happen, negligence on the part of others involved is often to blame. At Pita Weber Del Prado, we help older adults and their families get the compensation they are entitled to. Call 305-670-2889 or contact our Miami personal injury lawyer online and request a consultation today.
Sources:
census.gov/newsroom/stories/older-americans-month.html#:~:text=%E2%80%9CWhen%20Older%20Americans%20Month%20was,and%20their%20concerns%20was%20growing.
acl.gov/oam/2023/older-americans-month-2023\