Rollerblader-Car Accident in Florida: Causes and Liability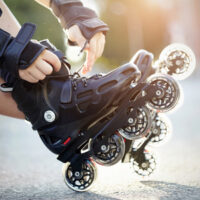 A car accident involving a rollerblader can be scary for all parties involved. While state laws surrounding liability for collisions involving motor vehicles, motorcyclists, bicyclists, and even pedestrians are more or less straightforward, determining fault in a rollerblading accident can be tricky.
Rollerblader Died in a Car Accident in Pompano Beach, Florida
A fatal accident involving a rollerblader and vehicle in Pompano Beach has reminded Florida residents of the dangers of rollerblading. The deadly collision, which occurred in the 600 block of NE 10th Street, involved a speeding vehicle that hit a tree and split in half, according to CBS Miami.
The driver and passenger in the vehicle – a man and woman – were ejected from the car. The car ended up slamming into a rollerblader on a walking path next to the street. The rollerblader was pronounced dead on the scene.
Eyewitnesses said they saw a black SUV, which was traveling well over 100 miles per hour, apparently chasing the car seconds before the fatal collision. The SUV passed the vehicle, and seconds later, it was up in smoke. The speed limit is 35 miles per hour in the area.
Causes of Rollerblading Accidents
Accidents involving rollerbladers are not uncommon in Florida. Many residents of the Sunshine State engage in rollerblading thanks to the state's warm weather. For some, rollerblading is their way to commute to and from work.
The leading cause of rollerblading accidents involving motor vehicles is the failure to yield the right of way and failure to notice rollerbladers prior to a crash. Rollerbladers in Florida are entitled to the same legal protections as pedestrians. Florida law prohibits rollerbladers from going upon any roadway except while crossing a street on a crosswalk.
Many rollerblading accidents occur due to:
Motorists' failure to notice the rollerblader when entering an intersection (e.g., because of distracted driving);
The opening of the door in the path of rollerbladers;
Motorists' failure to yield the right of way to the rollerblade when turning onto another street; and
Vehicles backing out of the driveway or parking spot.
Bias Against Rollerbladers in Car Accidents
Typically, rollerblading accidents result in a rollerblader's severe injuries that require expensive medical care. Due to the insufficient protection that rollerbladers have, they are likely to sustain head trauma, back injuries, paralysis, and death.
Rollerbladers and skateboarders, just like pedestrians, bicyclists, motorcyclists, and vehicles in Florida, must comply with sidewalk and roadway use laws. Many motorists are biased against rollerbladers in the event of collisions with pedestrians and motor vehicles. That is why injured rollerbladers must seek legal help from a Miami personal injury attorney to prove the other party's fault and recover compensation.
Fault in Rollerblading Accidents
Determining fault in a rollerblading accident depends on the facts of your case. For example, who is at fault for a rollerblader's personal injury if the rollerblader was hit within a crosswalk?
If a rollerblader was crossing at an authorized pedestrian crossing when the traffic signal indicated that he/she had the right of way, the driver of the vehicle who collided with the rollerblader would likely be held at fault.
Speak with our Miami personal injury lawyers at Pita Weber Del Prado to determine fault in your rollerblading accident. Call at 305-670-2889 for a case review.
Resource:
miami.cbslocal.com/2020/02/19/1-killed-2-injured-in-pompano-beach-crash/
https://www.pwdlawfirm.com/personal-injury/5-personal-injury-myths-in-florida-that-still-persist-in-2020/