Safety Precautions To Prevent Miami Bicycle Accidents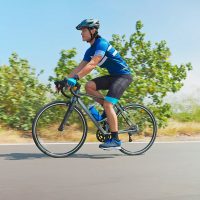 Bicycles provide a convenient and inexpensive form of transportation for many residents. Aside from serving a practical purpose, riding one is also a favorite hobby among adults and children alike. However, whether you are an experienced cyclist or received one as a gift over the holidays, it is important to be aware of the risks. Bicycle accidents in Miami are unfortunately common. Our Miami personal injury lawyer encourages you to take some simple precautions to reduce your chances of becoming a victim.
Miami Bicycle Accident Risks
While riding a bike is a great form of physical fitness and provides an inexpensive, environmentally-friendly form of transportation, it does expose you to certain risks. With the amount of traffic surrounding our local area, bicycle accidents in Miami are unfortunately common.
The Florida Department of Highway Safety and Motor Vehicles (FLHSMV) reports that an average of nearly 800 bicycle accidents in Miami-Dade County happen each year. Sadly, this number has steadily increased over the course of recent years. Reckless behavior on the part of motorists is often to blame. Common types of reckless driving that put bicyclists in danger include:
Distracted driving, such as using cell phones or texting instead of paying attention to the road;
Driving under the influence, which may involve alcohol, illegal drugs, or medications;
Aggressive driving, such as following bicyclists too closely, cutting them off while passing, and failing to yield;
Dooring accidents, in which motorists open car doors in parking lots or on side streets, without checking for bicyclists first;
Speeding, which increases the risk of bicycle accidents resulting in fatal injuries. 
Protecting Yourself Against Bicycle Accidents In Miami 
While bicycle accidents in Miami can happen to riders of all ages, young cyclists are among the most at risk. While you cannot control the behavior of motorists you encounter, there are some precautions you can take to reduce your risks of a crash, Miami-Dade County offers the following safety tips:
Make sure your bicycle fits you properly: Avoid getting a bike that is too big for your body and make sure to adjust it properly.
Wear an approved safety helmet at all times: Bicycle helmets reduce the risk of life-threatening head injuries by more than half.
Wear the appropriate shoes: Wear closed-toe shoes when riding, rather than sandals or flip-flops.
Use hand signals: Familiarize yourself with bike hand signals, which should be used when stopping or making turns.
Follow the rules of the road: A bike is a means of travel and, as such, riders are subject to many of the same rules and regulations as other road users.
Injured In A Bicycle Accident? Contact Our Miami Personal Injury Lawyer
Bicycle accidents in Miami can cause serious, potentially life-threatening personal injuries. At Pita Weber Del Prado, we provide the professional legal representation victims and their families need to get compensation in a claim. Call 305-670-2889 or contact our Miami personal injury lawyer online and request a consultation today.
Sources:
flhsmv.gov/pdf/crashreports/crash_facts_2020.pdf
miamidade.gov/global/recreation/bike305/bike-safety-tips.page