The Role of Vicarious Liability in Personal Injury Cases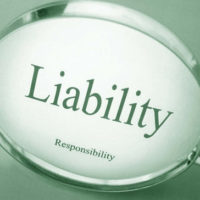 People often assume that suing someone in a personal injury lawsuit for harm caused by negligent behavior is limited to the person that directly caused the damage. This assumption is generally true in injuries related to car accidents, but in many other instances of negligence, the person who caused the harm is not necessarily the party one wants to sue for liability. Many injuries occur in the context of a customer/employee relationship, with the employee acting under the direction and authority of a business owner. Because the employee is standing in as a representative of a business, the law says the employer can be held legally responsible for the negligent actions of an employee under the theory of vicarious liability. Being able to hold a non-negligent party accountable for an injury is important for the injured party's ability to actually collect a judgment. Often, a person's negligence is clear, but he/she does not have the financial resources to compensate the victim for his/her injuries, and without a provision for bringing in a party with so-called "deep pockets," many injury victims would have no chance of recovery. An example of this issue is highlighted in a personal injury case out of Fort Lauderdale involving a man crushed to death at a truck dealership. A key question in the case was whether the man killed had a right to be on the property based on an employee's statement. A discussion of the circumstances under which the law will hold an employer responsible for the actions of an employee, and when this rule would not apply, will follow below.
When an Employer May Be Liable for an Employee's Conduct
In Florida, employers face potential liability for an employee's negligent conduct in two instances:
when the employee is acting within the scope of his/her employment, e., performing an act that is part of the job, or to further an interest of the employer; or
when the employer's own negligence was the source of an injury.
For example, if an employee fails to secure a display shelf in grocery store, and the shelf later falls on and injures a customer, the employer could be liable, assuming the employee was responsible for erecting the shelf, and had sufficient knowledge/training to do so properly. However, Florida law has an exception for rideshare companies that exempts them from liability for injuries sustained by employees, passengers or third parties from operation of a motor vehicle during the time between rideshare calls.
In most cases, an employer's own negligence stems from negligently hiring or retaining an employee, or failing to provide the proper training. Negligent hires and retentions often relate to employees with criminal records put in a position to have contact with the public/customers, or those within known propensities to violence. Essentially, if an employer knew an employee posed a danger to others, and still maintained the employment, the employer could be liable for any harm that results.
When Employer Liability Is Not Likely
Generally, employers will not be held responsible for sexual assaults or batteries committed by employees during the course of their employment. However, there are a few exceptions. First, if an employee held him/herself out as acting on behalf of an employer, and this representation was reasonably relied upon, the employer may be liable if an assault or battery occurs. Additionally, if the assault happens on a common carrier – taxis, planes, trains, etc. – the employer is potentially responsible, regardless of whether the attack occurred within the scope of employment.
Get Help
Suffering an injury, regardless of the circumstances, can have a profound impact on the lives of those affected. If you were injured because of someone else's negligence, contact the Miami law firm Pita Weber Del Prado to learn your legal options. Pita Weber Del Prado handles a wide variety of personal injury claims, and is here to help you get the compensation you deserve. Contact us today for a free consultation.
Resource:
dailybusinessreview.com/id=1202795065924/Broward-Jury-Awards-11-Million-in-Customers-Death-at-Truck-Dealership?mcode=1202617073880&curindex=5