Water Park Safety Tips: How to Prevent Injury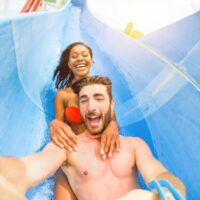 Amusement and water parks are a popular destination for adults and children who want to escape the summer heat. But how safe are water parks? Unfortunately, water parks pose some of the same hazards associated with swimming pools and natural waters, including but not limited to drownings, slip and falls, as well as disease and virus transmission.
In 2015 alone, over 4,200 people were taken to emergency rooms after suffering water park injuries, including concussions, spinal cord injuries, scrapes, and others. A recent personal injury case is a reminder of the dangers of water parks.
Lawsuit Against Miami for a Water Park Injury
According to Law.com, a jury rejected a claim that the city of Miami was liable for a girl's injury at the city's Grapeland Water Park. The 11-year-old girl was injured after she collided with another child at the bottom of a water slide. The incident took place in August 2015.
During the incident, the girl and boy collided at the bottom of the slide, damaging the girl's two teeth. The girl's parents filed a lawsuit against Miami, arguing that the lifeguard was stationed incorrectly. The positioning of the lifeguard, the parents argued, was inadequate to prevent the boy from standing at the bottom of the slide.
However, the city's defense attorney argued that the lifeguard had a duty to inspect all areas of the water slide in addition to a splash pool. Therefore, the lifeguard could not stay in one place. The defense also argued that it was the responsibility of the boy's parents to watch their child.
Grapeland Water Park is not the only popular water park in Florida. Other popular water parks include Disney's Typhoon Lagoon, LEGOLAND Water Park, Aquatica, Adventure Island, Disney Blizzard Beach in Lake Buena Vista, and many others.
How to Stay Safe at a Water Park
While injuries can occur while enjoying your time at a water park, there are ways to prevent accidents:
Learn to swim. This is probably the best tip to stay safe at a water park, swimming pool, or during any other water-based activity such as boating.
Inspect the area before going into the water or letting your children have fun at a water park to make sure that there are lifeguards on duty.
Wear protective equipment and clothing.
Use sunscreen before going to a water park and apply it throughout the day.
Have a hand sanitizer handy.
Drink plenty of water to prevent dehydration.
If your child cannot swim or is shorter than four feet tall, make sure that they are wearing a life jacket approved by the U.S. Coast Guard.
Always keep an eye on your kids when they are swimming.
Read all instructions and pay attention to all warning signs at the water park.
If you or someone needs help, call a lifeguard.
Avoid drinking alcoholic beverages at a water park.
Get out of the water and go home at the first sign of lightning.
If you were injured at a water park, seek help from a Miami personal injury attorney. Contact our lawyers at Pita Weber Del Prado to determine liability in your situation. Call at 305-670-2889 for a case evaluation.
Resource:
law.com/dailybusinessreview/2020/06/04/city-rejects-blame-for-girls-injury-on-park-water-slide/
apnews.com/219da8e7a67647608cc00fae13a91583/safety-issues-statistics-about-water-parks-us
https://www.pwdlawfirm.com/boating-accidents/types-of-boat-accidents-in-miami-florida-that-lead-to-personal-injury-claims/