Liability in Pool Accidents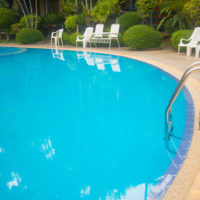 Although Florida is blessed with an abundance of natural water, such as the Ocean, the Gulf, various rivers and lakes, and even underground aquifers, many Floridians also have, or have access to, pools. And now that summer is in full swing, pool activity is as popular as any other outdoor activity in this State. And, as with almost any water activity, there is a risk of injury or worse. With the risk of accident comes liability for those individuals who are responsible for the accident. Retaining the services of an attorney experienced in premises liability, which includes injuries related to pool accidents, can help ensure that if someone is liable the appropriate amount of damages will be paid. Recently, two New York first responders, on vacation in Daytona Beach, let their instincts take control when, upon hearing a woman's screams, rescued a child floating in a backyard pool. A discussion of negligence, generally, and how negligence liability attaches to pool accidents, will follow below.
Negligence
In situations involving pools, negligence is the primary legal theory in which the responsible parties can be held liable for their actions (or inactions). Generally speaking, negligence occurs when the pool owner, who has a duty to ensure the safety of anyone who may come into contact with the pool, breaches that duty and, as a result of that breach, caused injury to a member of the public. Thus, in order to win a pool-related negligence case, the injured person, or the injured person's estate if the injured person dies, must prove the following four elements:
Duty – The pool owner owed a legal duty to keep the visitor safe;
Breach – The pool owner breached that duty by acting or failing to act in a certain way;
Cause – The pool owner's action (or inaction), in fact, caused the visitor's injury; and
Damages – The visitor was injured as a result of the pool owner's action (or inaction).
Specific to this topic, a swimming pool is considered, in legal terms, an attractive nuisance. This means that pool owners actually have a higher duty than others accused of negligence when it comes to warning about the dangers of pools and keeping children from injuring themselves. Typically, this higher duty manifests itself in prominent signage, or perimeter fencing, depending on the laws of the location in which the pool is located.
Liability
Typically, liability for pool-related injuries depends on whether the pool is privately- or publicly- owned. Generally, under the doctrine of premises liability, private pool owners (or inhabitants, if one is renting a house with a pool), can be held responsible for pool-related injuries that occur on their property. And, due to the attractive nuisance doctrine, discussed above, this can be true for both invitees and trespassers. Merely because a pool owner did not invite someone to the pool does not mean he/she will not be held liable if the trespasser is injured in or around it. This is why the signage and fencing is so critical. Even if there are no trespassers, it is a good idea to keep an eye on guests using the pool. Thus, it is probably safe to not have anyone use the pool without a responsible person nearby.
Liability at a public pool is typically a bit different, depending on who is responsible for the injury. If someone is injured due to the actions of another visitor to the pool, the other visitor will most likely be held liable. However, if employees failed to maintain safe conditions at the pool, they or their employer (which could be a government agency) could be held responsible.
As a final note, if a lifeguard is on duty at the time of the accident, it is important to note that a lifeguard is in a unique position, as he/she is hired and trained specifically to ensure the safety of any swimmers at that pool. Thus, and although State laws may vary with regard to certifications and regulations of lifeguards, they are generally held to a higher standard of care than the average pool patron. Further, they may not always be covered by "Good Samaritan Laws."
Seek Legal Advice
If you, or a loved one, sustained an injury due to a pool-related accident, contact the attorneys at Pita Weber Del Prado as soon as possible. We have experience in dealing with these types of accidents, and will work with you to get you the compensation you deserve. Contact our Miami office today for an initial consultation.
Resource:
abc7ny.com/vacationing-first-responders-from-ny-save-florida-girl-from-drowning/3707529/