Swimming Pools and Kids: The Risk of Injury and Liability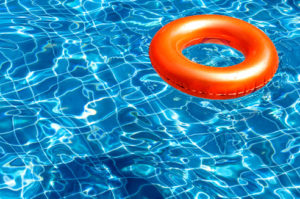 Living in Florida, with warm weather starting earlier and lasting months beyond the rest of the country, enjoying the fun and relaxing atmosphere of a swimming pool is an activity available most of the year. Kids are especially fond of this type of recreation, and are also most at risk for suffering an injury. Sometimes, the circumstances surrounding an injury can lead to a personal injury lawsuit based on the law of premises liability. This law comes into play as soon as a pool is installed, but the degree of care a property must take to ensure the premises are safe depends on why a person is on the property and if they are there with the owner's permission and knowledge. Because of the inherent danger pools pose, pool owners must take extra steps to make sure the pool and area surrounding it are safe and secure for anyone who may encounter it. This is especially true for children since they typically view a pool as a place to play, and rarely appreciate the danger it presents. Earlier this summer, an eight-year-old tragically died after falling into a pool on cruise ship. While the rules for liability on cruise ships are different than those imposed on a regular property owner, it shows that these accidents can happen anywhere and everyone should stay alert. A discussion of the duty owed to different types of visitors, and the special duty owed to children, will follow below.
Duty Owed to Different Types of Entrants
A private pool owner would need to worry about two types of entrants in connection with potential liability – licensees and trespassers. Licensees are social guests invited onto the property by the owner. In addition to the general duty to the keep the area safe, an owner owes this type of person a duty to warn about hazards not obvious to the average person. The fact that the danger is non-obvious is crucial, because if the average person would have discovered the risk with reasonable observation, the landowner would not be liable if an injury occurs. When it comes to a trespasser, the only duty a landowner has is to refrain from intentionally creating a danger that injuries the trespasser. This situation changes, however, if the trespasser is a child.
Attractive Nuisance
An attractive nuisance is a legal theory that places a special obligation on property owners to protect children from harm if they have a feature on the premises likely to attract a child's curiosity, like a swimming pool. This rule exists because children often do not understand the risks associated with certain activities. Under this law, the pool owner must take additional steps to place a secure barrier around the pool to keep children out and ensure they cannot gain access to use the pool without adult supervision. In Miami, specific provisions in the municipal code require pools owners to install permanent barriers. If the owner fails to install such a barrier or uses a barrier that is not in compliance with county building code regulations, the owner could face liability if a child is injured.
Talk to a Lawyer
If you or your child were injured in someone's pools due to negligence, it is important to talk to a personal injury lawyer about holding the property owner responsible. The lawyers at the Miami law firm of Pita Weber Del Prado knows how to put a winning case together, and are available to help you. Contact us for a free consultation.