Who's Responsible for Your Amusement Park Injury in Florida?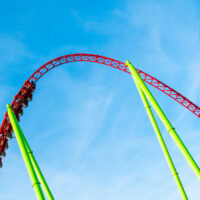 Florida is home to some of the world's most popular attractions, theme parks, and amusement parks. In fact, according to a 2018 report by WFLA, eight of the top 10 best amusement parks and water parks in the U.S. are located in the Sunshine State.
Thrill-seekers among local Floridians and tourists alike love the heart-stopping rides at amusement parks, but not when such rides are literally stopping hearts and injuring people and children.
While theme parks provide a great deal of fun and entertainment, they also pose an inherent risk of injury. A CNN report cited the U.S. Consumer Product Safety Commission stating that amusement parks are responsible for an estimated 30,000 injuries per year.
Liability for injuries and deaths at amusement parks in Miami and elsewhere in Florida usually rests on the shoulders of owners or these parks, operators, and manufacturers of attractions for failure to ensure the riders' safety.
If you or your child has been injured while enjoying an attraction ride in Florida, do not hesitate to contact our Miami premises liability lawyer at Pita Weber Del Prado.
Amusement Park Accident in Florida
A recent incident at a Florida amusement park has recently made national headlines and forced thousands of thrill-seekers to reevaluate how safe attractions are. According to a report by Newsweek, a Florida woman said she had "dodged death" when a slingshot ride's cables snapped moments before launch.
The woman said she could have died had she not avoided a slingshot ride in Panama City Beach, a popular vacation destination in northwest Florida.
Despite the amusement park workers trying to convince her into getting on the Vertical Accelerator, the woman chose not to use the ride because she had a "bad feeling."
It turns out, the woman was right.
The moment of the Vertical Accelerator's cable shredding was caught on camera, which was published by the woman on her Facebook account and shared via Newsweek. The video shows the ropes snap as an operator pulls down on a lever, with a woman's voice saying, "Oh my God, we just dodged death."
Officials responsible for the slingshot ride are inspecting the cause of the Vertical Accelerator breakage.
Premises Liability: Responsibility for Amusement Park Injuries
The incident has left many people wondering, "Who would be responsible for the damages if one or multiple guests were injured?"
Typically, in a situation when an attraction suffers a malfunction, the laws of premises liability apply, and the injured guest or family members of someone who died while using a ride can benefit from legal representation by a Miami premises liability attorney.
But who has the duty of care in amusement park accidents? In other words, who can be held responsible if a guest sustains an injury or suffers wrongful death while using a poorly maintained, defective, or inherently dangerous attraction?
Typically, the owner of the amusement park, operator of the attraction, and/or the manufacturer of the ride are held responsible for injuries but only as long as the plaintiff can prove that the defendant failed to ensure the rider's safety for reasonably foreseeable use.
This duty of care includes performing frequent and thorough inspections and maintenance, ensuring adequate restraints, giving adequate safety instructions, and providing proper employee supervision. A breach of this duty entitles a guest to sue for his or her amusement park injury.
Also, it is not uncommon for injured amusement park guests to pursue a product liability claim against the manufacturer of the defective or inherently unsafe attraction ride and other parties in the chain of distribution.
Reach Out to an Attorney for Help
Discuss your best course of action with a Miami premises liability lawyer at Pita Weber Del Prado. Let our legal professionals give you a free consultation. Call at 305-670-2889 or fill out this contact form.
Resource:
wfla.com/news/florida/8-of-top-10-theme-parks-located-in-florida/
newsweek.com/florida-amusement-park-panama-city-beach-cobra-adventure-park-vertical-accelerator-cable-shred-video-1455489
edition.cnn.com/2017/07/28/health/amusement-park-safety-data-2016/index.html
https://www.pwdlawfirm.com/knowledge-of-safety-issues-for-fiu-bridge-collapse-questioned/