10 Common Locations for Slip & Fall Accidents in Miami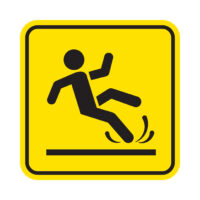 A slip and fall accident can happen to anyone, anywhere, at any time. Slip and falls are some of the most unpredictable accidents, but it does not change the fact that property owners have a duty to warn visitors of dangers and risks and eliminate hazards to prevent these accidents.
Nonetheless, there are locations where the risk of injuring yourself in a slip and fall accident is more prominent than in other places. The following ten locations account for a larger percentage of slip and falls in Miami and other parts of Florida.
If you sustained a serious injury in any of these locations, speak with our Miami slip and fall accident attorneys from Pita Weber Del Prado.
Common Locations for Slip & Fall Accidents in Miami
Although a slip and fall accident can occur anywhere at any time, there are a variety of locations that present a bigger risk of slipping and falling.
Supermarket and grocery store. Slippery floors, tiles, spilled foods and liquids, tripping hazards, fallen merchandise, and faulty shopping carts. Yes, supermarkets and grocery stores in Miami are full of slip and fall hazards.
Sidewalks and driveways. Although icy and snowy driveways are not a common occurrence in Miami or other parts of Florida due to the Sunshine State's warm weather, wet pavement during the storm season, as well as broken or cracked sidewalks and driveways can cause an accident.
Restaurants and bars. Regardless of whether you are a guest or employee, restaurant and bars are high-risk locations for slipping and falling due to wet floors, drink spills, slippery bathrooms, and other hazards.
Gyms. Slick floors in locker rooms and bathrooms, uneven flooring, and tripping hazards can cause a gymgoer to slip and fall.
Amusement parks. Apart from unsafe rides, an amusement park guest can be harmed due to a plethora of hazards, including spilled food and drinks, slippery floors, and others.
Swimming pools. While a swimming pool is every Floridian's favorite place to cool down in summer heat, slick surfaces around the pool are a recipe for disaster.
Apartment complexes. Unfortunately, not all apartment complexes in Miami are correctly and regularly maintained and inspected, which increases the risk of slip and fall accidents.
Residential homes. Even when you enter someone else's residential home, there could be a risk of such an accident if the owner did not eliminate slip and fall hazards.
Escalators and elevators. Both escalators and elevators tend to have slippery surfaces, which, when combined with malfunctions and defects, can cause preventable injuries.
Workplace. No matter where you work, falls are the third leading cause of workplace injury in the United States.
If your slip and fall accident was the result of improper maintenance on the part of the property owner or occupier, you might be able to pursue a personal injury claim against the negligent or careless owner, manager, or maintenance company. A Miami slip and fall accident attorney can help you prove that the liable party was aware of or should have known about the hazard or failed to remedy the dangerous condition prior to the accident. Call at 305-670-2889 to discuss your case in a free consultation.
https://www.pwdlawfirm.com/premises-liability/crime-foreseeability-and-negligence-claims/