Determining Fault in a Slip & Fall Accident in Miami, FL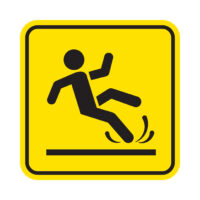 You might need help from a knowledgeable and results-driven slip and fall accident lawyer in Miami if you were injured on public or private property. From wet and uneven surfaces to cluttered floors and defective stairs, our law firm assists victims to recover damages from negligent property owners, landlords, and business operators in Miami and other parts of Florida.
At Pita Weber Del Prado, our slip and fall attorneys can help obtain justice in virtually any type of slip, trip and fall scenario, and pursue the compensation you deserve to pay for your burdensome medical bills, lost income, and other damages.
Determining Fault in a Slip & Fall Accident in Miami
In order to obtain compensation on your behalf, a slip and fall accident lawyer in Miami will have to prove all of the following elements of a premises liability claim:
The property owner or business operator had actual or constructive knowledge of the injury-causing condition on the premise (check out Florida Statute 768.0755 to find out about the legal requirements for actual or constructive knowledge);
The negligence of the owner was the cause of your slip and fall accident; and
You suffered damages due to that negligence.
Often, slip and fall victims succeed on a negligence theory by proving constructive knowledge on behalf of the property owner. In order to determine that the property owner, landlord, or business operator had constructive knowledge of the hazard, you need to find circumstantial evidence such as:
The hazardous condition existed for an unreasonable length of time. In other words, another property owner who exercised due care and maintained the premises in a proper manner would have noticed and remedied the condition within that time period; or
The unsafe condition occurred on the premises with such regularity that its presence was foreseeable.
Can You Be Partially at Fault for Your Miami Slip and Fall Accident?
Often, a victim is found partially at fault for his or her slip and fall accident injury. This could be the case if the injured visitor or customer was using a cell phone or was on the part of the property where visitors are not permitted to be.
In premises liability cases – as well as other personal injury claims – Florida follows the Pure Comparative Negligence rule, which states that the amount of financial compensation an injured party can recover is reduced by the percentage of their own fault.
Thus, if you were found to be 10% at fault for your accident, and your Miami slip and fall accident lawyer helped you recover $100,000, you would ultimately receive $90,000 since your damages are reduced by $10,000 (10%).
In July 2019, a Tallahassee woman was awarded nearly $2 million after slipping and falling at a local convenience store. As reported by WTXL, her past medical bills totaled over $110,000, while her future medical bills were estimated at $350,000.
Proving Negligence in a Slip & Fall Incident
Your attorney must establish that the incident was caused by another party's negligence for you to be eligible for monetary compensation in a slip and fall accident. In the context of a premises liability claim, "negligence" refers to a party's failure to exercise due care given the circumstances.
For example, if another customer spilled a gallon of milk in a grocery store, the store's employee would owe a duty of care to you and other customers to:
Clean the milk spill within a reasonable amount of time; or
Post a visible warning about the dangerous condition.
Failure to take any of the above-mentioned steps would amount to "negligence," and the property owner or business operator could be held accountable for customers' injuries that occurred as a result of that negligence.
Contact our Miami slip and fall lawyers at Pita Weber Del Prado to build a premises liability claim and obtain fair compensation. Call at 305-670-2889.
Resource:
wtxl.com/news/local-news/woman-awarded-nearly-2-million-in-slip-and-fall-case-at-tallahassee-convenience-store
https://www.pwdlawfirm.com/personal-injury/reform-advocates-in-florida-seeking-limits-on-personal-injury-damages/