Common Causes Of Miami Truck Accidents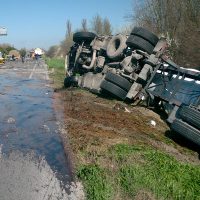 Miami-Dade County is a hub of activity for truckers. Local motorists routinely encounter tanker-trucks, 18-wheelers, and other big rigs on local roads. As a result, truck accidents occur on a regular basis. Our Miami truck accident lawyers explain some of the most common causes and how you can protect yourself.
Rollover Truck Accidents in Miami: One of The Most Common Crashes
A recent rollover truck accident in Miami-Dade County directly impacted at least four other motorists involved. According to a News 7 report in late July, 2022, it happened near the Northwest 106th Street exit on the Florida Turnpike.
Traffic was heavy at the time of the crash, which occurred just before noon on a weekday morning. Police reports indicate that an 18-wheeler lost its load, causing it to roll over and collapse on its side. This triggered a train reaction. In addition to impacting drivers in multiple lanes, it also caused an approaching tractor-trailer to rollover as well.
Unfortunately, the higher center of gravity on most commercial rigs makes rollovers more likely to happen. They are among the most common types of truck accidents and also among the most deadly. They can occur due to a variety of reasons, but frequent contributing causes include:
Improperly secured or uneven loads, which causes weight to shift;
Speeding and going too fast for road, traffic, or weather conditions;
Making too sharp of turns;
Slamming on the brakes, resulting in skidding and loss of control;
Mechanical failures, such as tire blowouts and problems with brakes or steering systems.
Other Common Causes of Truck Accidents In Miami
According to statistics from the Florida Department of Highway Safety and Motor Vehicles (FLHSMV), there are an average of nearly 8,000 commercial truck accidents in Miami-Dade County each year. The large size of most big rigs provides a level of protection for the truck driver. It is generally other motorists involved who suffer the most severe personal injuries.
You can reduce your risks by giving truckers plenty of space on local roads, avoiding large blind spots in front of, behind, and on either side of most big rigs, and paying close attention at all times. In addition to rollovers, keep in mind other common ways truck accidents in Miami happen:
Head on collisions, common on one way streets, near highway exit or entrance ramps, or when driving at night.
Jackknife truck accidents, which occur when a trucker slams on the brakes, causing the trailer to ride up alongside the cab.
Rear-end collisions, which are common in heavy traffic and on downgrades.
Side impact accidents, which occur frequently in intersections and at side streets.
Side swipe accidents, which can happen while passing.
Our Miami Truck Accident Lawyer Helps You Recover
Truck accidents can cause devastating personal injuries. At Pita Weber Del Prado, our Miami truck accident lawyer helps you get the compensation you need to recover.  To request a consultation, call 305-670-2889 or contact our office online today.
Sources:
wsvn.com/news/local/rollover-crash-causes-lane-closures-in-nw-miami-dade/
flhsmv.gov/pdf/crashreports/crash_facts_2020.pdf