Rollover Accidents In Miami: Why They Happen And Who Is At Risk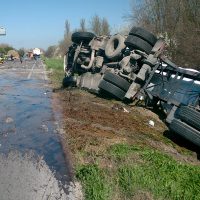 Rollover crashes are one of the most common causes of truck accidents in Miami. While frequently involving semi-trucks, tractor-trailers, or other big rigs, rollovers can happen with any larger size vehicle and those that sit up higher from the road. Find out more about why they occur and who is at risk.
Fatal Rollover Accident In Miami
A recent rollover accident in Miami Gardens proved fatal for one of the motorists involved. According to a December 5, 2022 NBC News 6 South Florida report, the accident happened on a weekday during the early morning hours, near Northwest 207th Street and Northwest 27th Avenue.
Police reports indicate that a blue Subaru was speeding when it crashed into the side of a white transport van. The force of the impact caused the van to roll over, trapping the driver and a passenger inside. The victims were eventually extracted by Miami-Dade Fire Rescue. The passenger was pronounced dead at the scene and the passenger was taken to a local hospital. Thus far, no criminal charges have been filed in the case, but are likely pending following further investigations.
Rollover accidents are a common problem among trucks, buses, delivery vans, and other taller vehicles. The higher center of gravity combined with uneven weight distributions of cargo can throw these larger vehicles off balance. However, rollovers can also happen to pick-up trucks, sport utility vehicles, and Jeeps, particularly when speeding or other dangerous driving behaviors are involved.
Why Rollover Accidents Happen
The Insurance Institute for Highway Safety (IIHS) reports that rollover accidents are one of the most common types of crashes. They are also among the most dangerous, often resulting in serious and potentially life-threatening personal injuries for drivers and passengers involved.
As stated above, the higher center of gravity and shifting cargo can make rollovers more likely to occur with trucks and other types of commercial vehicles. Tire blowouts and other mechanical failures are also common causes. When they happen to smaller trucks, SUVs, and other types of vehicles, reckless driving is often involved. This includes:
Speeding;
Going too fast when making turns or around curves in the road;
Swerving in and out of lanes;
Striking guardrails, curbs, or other objects;
Running red lights or stop signs, resulting in side impact crashes.
Other factors that often play a role in these crashes include distracted driving, driving under the influence, and drowsy driving or falling asleep behind the wheel.
Our Miami Truck Accident Lawyer Helps Victims Get Compensation
Rollovers are a common cause of truck accidents in Miami and can impact multiple other motorists on the road. They can also happen in crashes involving any other type of taller vehicle, particularly when reckless driving is involved. If you or someone you love is injured, reach out to Pita Weber Del Prado. Our Miami truck accident lawyer helps you get the compensation you need to recover. To request a consultation, call 305-670-2889 or contact our office online today.
Sources:
nbcmiami.com/news/local/person-killed-another-hospitalized-after-rollover-crash-in-miami-gardens/2923164/
iihs.org/topics/fatality-statistics/detail/passenger-vehicle-occupants