Can a Pedestrian Get Compensation if They Were Jaywalking?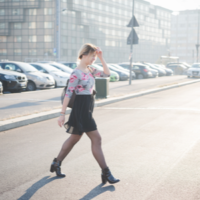 When a pedestrian is hit by a car, the car driver is not at fault all the time. Many pedestrian accidents occur when the pedestrian is unlawfully crossing the street.
While a pedestrian will most likely share some or all of the fault if they were hit while jaywalking, they could potentially get compensation if the driver contributed to the crash.
Many people presume that pedestrians are 100% at fault when they are hit by vehicles while unlawfully crossing the street. However, drivers must exercise reasonable care and avoid collisions even when pedestrians are jaywalking.
For this reason, it is essential to consult with a Miami car accident attorney to establish who was at fault in your pedestrian accident. Our attorneys at Pita Weber Del Prado have handled numerous pedestrian accidents throughout Florida and can help you determine liability in your unique case.
Are Pedestrians Entitled to Compensation if They Were Mostly at Fault?
While many states follow the doctrine of modified comparative negligence, Florida adopted the pure comparative negligence rule (Fla. Stat. § 768.81). For this reason, Florida law makes it easier for pedestrians to recover damages when they are partially or mostly to blame for their injuries.
Under the pure comparative negligence doctrine, a pedestrian – or any other injured person, for that matter – is entitled to compensation even if they were mostly at fault. In modified comparative negligence states, injured parties are barred from recovering any damages if their fault exceeded 51%.
Note: Your compensation will be reduced in proportion to your degree of fault.
For example, if a pedestrian who was hit by a vehicle while jaywalking is found to be 75% at fault for their injury, while the driver is 25% responsible because they were speeding, the injured pedestrian will be able to recover 25% of the total damages.
Can a Pedestrian Seek Compensation for Injuries if They Were Jaywalking?
In most pedestrian accidents where a pedestrian is hit while lawfully crossing the street, the driver is deemed at fault. However, if a pedestrian was jaywalking when they got hit by a motor vehicle, the pedestrian would likely be presumed to be responsible for the accident.
However, that does not mean that a driver cannot be partially to blame for hitting a pedestrian who was illegally crossing the street at the time of the accident.
Under Florida law, all motorists have a legal duty to exercise due care by following traffic laws. For this reason, even if a pedestrian is unlawfully crossing the street, the driver must take all reasonable steps to avoid hitting the jaywalking pedestrian.
If a driver hits a jaywalking pedestrian when it can be proven that any other reasonable and prudent motorist would have avoided the collision, the driver can be held partially or even mostly to blame for the accident.
If you were injured in a pedestrian accident while jaywalking, it is essential to consult with a skilled car accident lawyer to discuss your particular situation. Contact our Miami car accident attorneys at Pita Weber Del Prado to establish fault in your crash. Call 305-670-2889 to schedule a case review.
https://www.pwdlawfirm.com/personal-injury/what-can-delay-my-personal-injury-settlement-in-florida/