Can Trespassers Recover Damages in a Negligent Security Claim in Florida?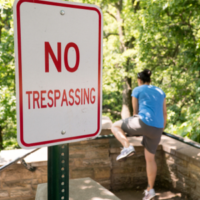 Negligent security claims are difficult to prove and win in Florida, especially if you were "trespassing" at the time of the incident. If you had no permission to be on the owner's property when you were injured, you might have a hard time recovering damages in a negligent security claim.
Property owners have a duty to ensure the safety of all individuals who are lawfully on the property and protect them from foreseeable dangers, including third-party criminal acts.
If you have been injured on someone else's property, speak with a Miami negligent security attorney regardless of your status on the premises at the time of the incident.
Types of Property with Negligent Security
Most often, negligent security claims are filed against owners of the following types of property:
Restaurants and bars
Nightclubs
Grocery stores
Parking lots
Shopping malls
Apartment complexes
Hotels and motels
Sports venues
Concert venues
Amusement parks
Public transportation stations
How to Prove a Negligent Security Claim
In order to prove a negligent security claim, your attorney will have to consider the following factor:
Where is the property located?
What is the type of property?
Was the crime foreseeable?
Were there any crimes on the premises in the past?
As a rule of thumb, the stronger the security measures on the property, the lower the chance that a visitor will become a victim of a crime. For this reason, property owners have a duty to strengthen security measures.
When security measures are inadequate, and a visitor gets injured because of a third party's criminal act, the owner of the property may be held liable for the victim's injuries and damages due to negligent security measures.
What Are the Examples of Negligent Security?
The most common examples of negligent security measures include:
Faulty or missing locks
Broken or missing security cameras
Inadequate or missing alarm systems
Lack of security personnel on the premises
Poor lighting or a lack thereof
Typically, an injured visitor may be eligible to file a negligent security claim when they can prove that they were injured due to a "foreseeable" criminal act committed by a third party.
The property owner can be held responsible for a third-party criminal act when the act could have been foreseen and reasonably prevented through adequate security measures in place.
Can You Seek Compensation if You Were Trespassing?
Seeking compensation as a trespasser – or an individual who has no permission to be on the property – is much more complicated, even if you were injured during a criminal act perpetrated by a third party due to the negligent security measures in place.
Under Florida law, the reasonable standard of care is typically lower for trespassers than for invitees or guests on the property. For example, when visiting a shopping mall during its opening hours, you have the status of an invitee. However, if you were asked to leave, you become a trespasser.
Since trespassers do not have the owner's permission to be on the premises, they may not be able to seek compensation if they were injured due to negligent security measures on the property. However, under Florida law, property owners still have a duty to prevent intentional and reckless injuries to trespassers.
Speak with an experienced negligent security attorney in Miami to determine if you can sue the property owner if you were trespassing at the time of your incident. Call 305-670-2889 to book a free consultation.
https://www.pwdlawfirm.com/uncategorized/whos-at-fault-in-right-turn-car-accidents/