What Prescription and Over-the-Counter Drugs Can Affect Driving?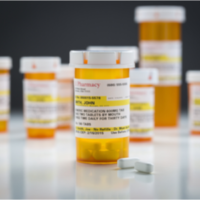 Over 66% of all U.S. adults use prescription medications, and many of those adults operate motor vehicles. Some types of prescription drugs can pose a danger to motorists due to an increased risk of impairment.
While most drivers are aware of the dangers of driving under the influence of alcohol or illegal drugs, many drivers do not realize that prescription and over-the-counter (OTC) drugs can also affect their driving abilities due to their side effects.
If you have been involved in a vehicle crash and a police officer determined that you were "impaired" by prescription or OTC medications, consult with a Miami car accident attorney as soon as possible.
Medication Side Effects That Could Affect Driving Abilities
Some prescription and OTC drugs can have side effects that can impair your driving abilities and put you and other people on the road at risk. Some of the side effects to watch out for when taking prescription or over-the-counter medications include:
Blurred vision
Sleepiness
Drowsiness
Tiredness
Dizziness
Nausea
Slower reaction time
Poor concentration
Euphoria
Aggressiveness
Depending on the user, some of these dangerous side effects can last for several minutes or hours. However, some drivers may not experience any side effects at all.
That's why it is vital to:
Consult with your physician about the effects of the prescribed or over-the-counter drug on your driving abilities; and
Do not get behind the wheel immediately after taking a drug, especially if you do not know how it affects you and what side effects you may experience.
You should also avoid mixing medications, especially if you are not sure how they may interact.
Prescription and Over-the-Counter Drugs That Can Affect Driving
Some prescription and OTC medications are more likely to affect a user's ability to operate a motor vehicle safely. While most prescription and over-the-counter drugs do not pose a danger to drivers, others may have dangerous side effects:
Antidepressants (Prozac, Zoloft, Lexapro, etc.)
Muscle relaxants (Skelaxin, Soma, Flexeril, and others)
Anti-seizure drugs (Ativan, Lyrica, etc.)
Anti-anxiety drugs (Valium, Xanax, Librium, Klonopin, and others)
Antipsychotic drugs (Abilify, Saphris, Risperdal, etc.)
Painkillers (OxyContin, Oxycodone, Hydrocodone, and other opioids such as codeine, tramadol, and morphine)
Cold and allergy medicine (Afrin, Sudafed, Benadryl, Chlor-Trimeton, Dimetapp, etc.)
Sleeping pills (Lunesta, Ambien)
Motion sickness drugs (Dramamine, Bonine, Gravol)
Antihistamine drugs (Benadryl, Claritin, Zyrtec, Allegra)
Anti-diarrheal drugs (Loperamide, Imodium, and others)
Stimulants, diet medications, and caffeine pills
Cannabidiol (CDB) products (Epidiolex)
Stay Safe When Driving After Taking Medications
Whether you are taking over-the-counter or prescription medications, it is always best to consult with your doctor and read all labels and instructions to find out about the potential side effects.
Do not forget to ask your physician or pharmacist about possible drug interactions if you are currently taking other medications. If you get a prescription for a new medicine or a higher dose, avoid driving until you know how it affects you and your driving abilities.
If you are involved in a car crash after taking medications, it is in your best interests to consult with an experienced attorney. Schedule a free consultation with our lawyers at Pita Weber Del Prado. Call 305-670-2889 today.
Resource:
hpi.georgetown.edu/rxdrugs/
https://www.pwdlawfirm.com/uncategorized/can-a-pedestrian-get-compensation-if-they-were-jaywalking/