Grieving Family Members Can Get A Sense Of Justice Through A Wrongful Death Claim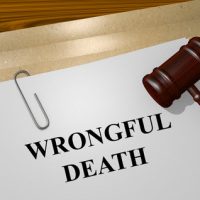 The only thing worse than the death of a loved one is knowing that it could have been prevented. A wrongful death happens due to the reckless and negligent actions of others. While surviving family members are often frustrated when no criminal charges are filed, you can get a sense of justice through a wrongful death claim. Our Miami wrongful death lawyers explain how.
When An 'Accident' Claims The Life Of A Loved One 
The Centers for Disease Control and Prevention (CDC) reports that 'accidental' injuries are one of the leading causes of death in the U.S. While others involved may not have meant to cause your loved one harm, the fact is that their reckless actions are to blame. Common causes of wrongful death in Miami include:
Motor vehicle accidents, involving drivers, passengers, motorcyclists, and pedestrians;
Truck accidents, impacting multiple other vehicles involved;
Boating accidents, and other accidents involving sports or recreational activities;
Premises liability accidents, such as slips, falls, and getting struck by objects;
Product liability accidents, in which recklessness on the part of manufacturers is to blame.
While the police may conduct an investigation into a wrongful death, no criminal charges are likely to be filed. This causes even more heartache for grieving families. Filing a wrongful death can provide a sense of justice in this situation and may even prevent others from facing the same type of tragedy in the future.
Filing A Wrongful Death Claim In Miami
When a loved one dies due to the reckless actions of others, surviving family members have the right to hold those at-fault accountable in a wrongful death lawsuit. While no amount of money can bring back the victim or ease the grief you feel at their passing, it can help to ensure you are compensated for medical expenses, funeral costs, lost wages, and other losses you experience.
Depending on the situation, you may also be entitled to punitive damages. Under the Florida Statutes, these are awarded in cases where the at-fault party engaged in intentional misconduct and was grossly negligent. Examples include:
Driving with a high blood alcohol content (BAC) level or going at high rates of speed in a school zone;
Knowingly putting potentially dangerous products on the market or failing to pull defective items from shelves;
Not warning visitors to your property of obvious dangers or failing to take other precautions, such as installing fencing around pools;
Intentionally violating state and federal safety regulations.
Punitive damages are set at amounts meant to punish the at-fault party and can total hundreds of thousands of dollars. They also serve as a warning to others, preventing them from engaging in similar behavior.
Reach Out To Our Miami Wrongful Death Lawyers 
At Pita Weber Del Prado, we provide the caring support and trusted legal guidance you need when a loved one passes. To discuss how we can help you get a sense of justice by holding those at fault accountable, reach out and call 305-670-2889 or contact our Miami wrongful death lawyers online today.
Source:
cdc.gov/nchs/fastats/accidental-injury.htm