When a Loved One Dies: The Basics of Wrongful Death Lawsuit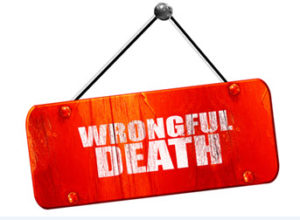 It is an unfortunate reality that people die unexpectedly every day. Sometimes, the cause is an unknown or sudden medical crisis, and other times the responsibility lies with a negligent third party. Mourning the sudden death of a loved one is a painful process that requires time and patience, but part of that healing may be accomplished by holding a negligent party accountable through a wrongful death lawsuit. Essentially, a wrongful death suit is a civil remedy to obtain monetary compensation when someone negligently or wrongfully causes the death of another. These cases are separate from criminal charges, and are the only way to hold a company or government accountable for a death. While taking legal action may not be at the top of a person's list during the days immediately following a death, it is important to seek legal counsel as soon as practicable because important evidence may be lost, and Florida imposes a two-year limit on filing this type of legal claim.
A recent article in the Sun Sentinel discusses a wrongful death suit filed by the family of a man killed by a police officer last year. The suit is against the officer and the City of Palm Beach Gardens, and alleges that the city was negligent in hiring an officer with a history of excessive force and then failing to train him on proper policing techniques.
Proving a Wrongful Death Case
In order to bring a wrongful death suit, the following circumstances must exist:
a person died;
through the negligence of another person or entity;
the surviving family members suffered a financial loss as a result; and
a personal representative was appointed to represent the deceased's estate.
Proving a person or entity was negligent or committed a wrongful act is not always easy to do. The law requires the plaintiff to show that the defendant owed a duty to the deceased, that duty was breached, and an injury occurred as a result. Many different types of relationships result in legal duties to exercise due care toward another. Some examples include employer/employee, doctor/patient, and property owner/guest or customer.
Further, Florida law limits which surviving family members have a right to ask for compensation. Any surviving spouses, children, or parents are eligible, plus other blood relatives or adopted siblings if they derived all or part of their support from the deceased. In addition, surviving minor children of unwed mothers can recover under this law, but not children of unwed fathers unless he was legally obligated to support a child.
Damages
When it comes to awarding damages in these cases, families can receive monetary compensation for the following:
past and future value of lost support and services the deceased provided to surviving family members from the date of the injury or death;
lost companionship and mental pain and suffering for surviving spouses;
mental pain and suffering for surviving parents of minor children, or adult children if there are no other survivors;
lost guidance, instruction, companionship and mental suffering for surviving minor children; and
medical and funeral expenses paid by a survivor.
Get Help
If you lost a loved one due to another's negligence or wrongful act, contact an lawyer experienced with wrongful death cases, like those at the Miami law firm of Pita Weber Del Prado. Our lawyers can evaluate the facts of your case, and advise you on your legal options. Contact a lawyer today for a free consultation, and start the process of holding the responsible party accountable.
Resource:
sun-sentinel.com/local/palm-beach/fl-corey-jones-wrongful-death-case-update-20160916-story.html