Wrongful Death of a Bicyclist in a Collision with a Truck or Car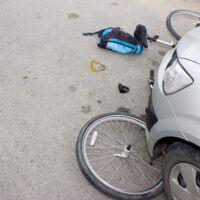 Unfortunately, such a healthy and fun activity as riding a bicycle can result in a preventable death due to the negligence of another motorist. In 2017, 783 bicyclists were killed in collisions with motor vehicles; many of the victims were children and teenagers.
And it looks like bicyclist fatalities in the U.S. have been on the rise in the past decade. In the period between 2008 and 2017, bicyclist deaths increased by 32%, while total car accident fatalities decreased by almost 1%.
In fact, Florida has the most bicycle deaths in the nation, according to Orlando Weekly.
When someone you love dies in a bicycle crash, nothing can compare with the intense feelings of grief. Although no amount of money can bring back your child, parent, or spouse, who lost his or her life in a bicycle collision, filing a wrongful death claim can help the family find closure.
You should seek help from a Miami wrongful death attorney from Pita Weber Del Prado to evaluate your losses and obtain an adequate amount of compensation.
Miami Bicyclist Struck and Killed by a Truck
Last week, a bicycle rider was struck and killed in a truck collision in Miami. According to WPLG, the fatal bicycle accident occurred near Northwest 27th Avenue and Northwest 11th Street.
The bicyclist who died in the crash was identified as a construction worker who used the bike to commute to work. The truck driver remained at the scene.
The cause of the deadly bicycle-truck collision has not been determined at the time of publication. It is not clear whether the family members of the victim are preparing to file a wrongful death suit.
Bicycle accidents often happen as the result of poor judgment, negligence, or recklessness on the part of a car or truck driver.
Causes of Bicycle Crashes in Miami
In many collisions with bicycles, motorists fail to yield the right of way or do not notice bicyclists. Common causes of fatal bicycle accidents in Miami and other parts of Florida include:
Drivers turning rights. Before turning right, all motorists must ensure that there are no cyclists lingering in their blind spots because most bike lanes are on the far right.
Drivers turning left. When a motorist has to turn left across traffic at an intersection or another scenario, he or she often fails to look for bicyclists.
Dooring accidents. Accidents in which a bicyclist rides into a motor vehicle's doors are all too common in Miami and elsewhere in Florida. In this scenario, the bicyclist can either slam into the door or swerve into traffic and be hit by other vehicles.
Clipping accidents. Drivers who fail to maintain an adequate distance when driving behind bicyclists can also cause the so-called "clipping accidents," which are especially common when a motorist is overtaking a bicycle rider.
Wrongful Death in a Miami Bicycle Accident
Florida's law protects a bicycle rider's right to ride on the road like any other operator of a motor vehicle. When a motorist causes a fatal bike crash, he or she may be liable in a wrongful death case.
A wrongful death lawsuit after a fatal bicycle accident can be filed by the family – typically, the spouse, parents, and children of the victim – to obtain compensation. The victim's family members who are eligible to receive the benefits are encouraged to speak with a Miami wrongful death attorney who is familiar with both Florida's bicycle accident law and wrongful death law.
Here at Pita Weber Del Prado, our detail-oriented and knowledgeable lawyers are ready to help. Schedule a free consultation by calling at 305-670-2889 or complete our contact form.
Resource:
local10.com/news/local/miami/bicyclist-struck-killed-by-truck-in-miami
orlandoweekly.com/Blogs/archives/2019/05/29/florida-still-has-the-most-bicycle-deaths-in-the-us-survey-finds
pedbikeinfo.org/factsfigures/facts_safety.cfm
https://www.pwdlawfirm.com/wrongful-death-personal-injury/understanding-floridas-wrongful-death-claims/