Protecting Young Passengers From Car Accidents In Miami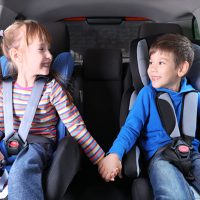 Children are the most vulnerable passengers in an automobile. When car accidents in Miami happen, personal injuries they suffer as a result can be debilitating and potentially fatal. To protect them, it is important for parents to take the appropriate safety precautions. Our Miami car accident lawyers share some of the top safety tips.
Children Among Most Likely To Suffer Severe Car Accident Injuries
A recent and tragic car accident near Miami claimed the life of a small. According to a May 2023 NBC 6 Miami News report, it happened on Interstate 75 in Broward. Police reports indicate that the mother was driving a GMC SUV during rush hour traffic in the northbound express lanes and had stopped improperly inside of a lane to tend to her one-year-old son, who was in the back seat. Unfortunately, a pick-up truck rear-ended the vehicle. The mother suffered serious personal injuries while the child was pronounced dead at the scene.
Sadly, these types of tragic incidents are all too common. According to the Centers for Disease Control and Prevention (CDC), more than 600 children under the age of 12 are killed in car accidents throughout the United States each year while over 60,000 others suffer serious and potentially debilitating personal injuries. Making sure children are properly restrained and using an approved, age-appropriate child safety seat can help to reduce the risks.
Protecting Children On The Road
The Florida Department of Highway Safety and Motor Vehicles provides strict guidelines for using seat belts and child safety seats or harnesses. However, while they can reduce the risks of fatal injuries, these do not prevent car accidents from happening. To protect young children who are passengers in your vehicle when on the road follow these safety tips:
Make sure young children are properly strapped into the back seat of the vehicle;
Make sure they have any provisions they might need, such as snacks or activity books, prior to your trip;
Keep your focus on the road and avoid reaching back or looking behind you to check on them while driving;
If you do need to attend to them, pull over at the first safe location, preferably a parking space;
Give other motorists plenty of space, which can help prevent sudden stops or other violent movements that could cause injuries to children;
Follow all traffic rules and regulations and never get behind the wheel if you have any amount of alcohol in your system.
Contact Our Miami Car Accident Lawyers
Despite taking these precautions, car accidents in Miami can still happen. Sadly, these can have devastating impacts on children in the vehicle. If you or someone you love is injured due to the reckless behavior of another driver, reach out to Pita Weber & Del Prado. We provide the compassionate support and professional legal representation you need in filing a claim. To request a consultation, call 305-670-2889 or contact our Miami car accident lawyer today.
Sources:
nbcmiami.com/news/local/young-child-killed-in-violent-crash-on-i-75-in-broward/3033251/
cdc.gov/transportationsafety/child_passenger_safety/cps-factsheet.html#:~:text=In%202020%2C%20607%20child%20passengers,more%20than%2063%2C000%20were%20injured.&text=Of%20the%20children%20who%20were,%E2%80%A0%20were%20not%20buckled%20up.
flhsmv.gov/safety-center/child-safety/safety-belts-child-restraints/