Rollover Car Accidents In Miami: How They Happen And Who Is At Risk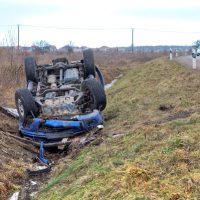 Rollovers are one of the most dangerous types of car accidents in Miami and can leave drivers and passengers involved suffering serious, potentially life-threatening personal injuries. Actions you take on the road and the type of vehicle you drive can make them more likely to happen. Our Miami car accident lawyer explains what you need to know about the risks.
How Rollover Car Accidents Happen
A 21-year-old woman was recently killed in a rollover car accident in Miami Gardens. According to a March 15, 2023 Local 10 News report, she was traveling southbound on U.S. 441 at roughly 3:15 a.m. when she swerved and clipped a median strip. This caused her to lose control, spin across multiple lanes, and into an auto dealership, where she struck multiple vehicles.
Her own car rolled over and landed on the roof, at which time she was ejected from the vehicle. Unfortunately, her injuries ended up proving fatal. Police are continuing to investigate the case and have not indicated any contributing causes.
Rollover crashes are one of the most common types of car accidents. According to Progressive Insurance, they often happen due to one of the following reasons:
Tripping, which is when one of the vehicle tires hits something in or near the road, such as a ditch, curb, or in the above case, a median strip;
Speeding, which is a common cause of rollover crashes when going around curves or making turns;
Adverse weather, which increases the likelihood of skidding that results in rollover crashes;
Any type of collision involving other motorists, in which the force of impact can cause your vehicle to roll over.
Manufacturing defects can also increase rollover accident risks and are a frequent cause of recalls in the automotive industry.
Drivers Who Are Most At Risk For Rollover Car Accidents In Miami
The National Highway Traffic Safety Administration (NHTSA) reports that certain types of vehicles are more vulnerable to rollover accidents. These include:
Large trucks, which may roll over due to their height or as a result of shifting and uneven loads.
SUVs, which are also at risk due to height, particularly when going around sharp curves.
Jeeps and other vehicles with oversized tires, which make tripping more likely to happen.
Motorcycles, which can easily lose their balance due to speeding or in adverse weather.
Unfortunately, in addition to being one of the most common types of crashes, rollovers are also among the most likely to result in fatal injuries. As they tend to impact motorists in surrounding lanes, multi-vehicle collisions are another risk.
Our Miami Car Accident Lawyer Helps You Get Compensation For Rollover Accidents
Rollover accidents in Miami are one of the most common yet complex types of crashes. Other drivers involved as well as vehicle manufacturers may share a portion of the blame. At Pita Weber Del Prado, we identify underlying causes and help you get the compensation you are entitled to in a claim. To request a consultation, call 305-670-2889 or contact our Miami car accident lawyer online today.
Sources:
local10.com/news/local/2023/03/15/woman-21-killed-in-rollover-crash-in-miami-gardens/
progressive.com/answers/what-is-rollover-car-accident/
nhtsa.gov/crashworthiness/rollover-research