How To Take Photos After A Car Accident?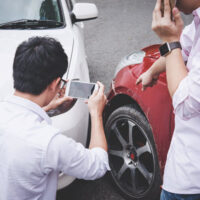 Being involved in a car accident is a stressful and frustrating experience. The last thing on your mind is thinking about how to take photos after the collision.
However, you need to understand that photographs and videos can serve as critical pieces of evidence in car accident cases. When properly taken, photos can make a huge difference when pursuing compensation for all your damages and losses.
If you have been injured in a car crash, it is highly advised to consult with a car accident attorney to help you handle your claim properly and receive the compensation to which you are entitled.
7 Tips for Taking Photos After a Car Accident
In most car accidents, the perfect moment for taking photos at the scene of the crash is while you wait for the police and an ambulance. Follow these tips to take photos after a car crash:
Stay safe. Ensure your safety when trying to take photos at the scene of your car accident. The worst thing you can do is attempt to take photographs if you have been severely injured. Instead, let someone else (your passenger or a witness) take photos for you.
Photograph the crash scene. Do your best to take photos of the entire area of the accident scene to show the position of the cars, the distance between the vehicles, and the vehicles' location in relation to other objects such as road signs.
Vehicle damage. One of the most valuable types of photographs you can take following a car accident is vehicle damage. Make sure to take photos of all damages caused to your car, including broken windows and dents.
Injuries. If you have been injured, it is a good idea to take photos of your injuries. If you cannot take the photographs yourself, ask your passenger or a witness to take photos of your injuries for you. Do not take photos of other people's injuries if you do not have their permission.
Surroundings. Take photos of your surroundings when walking around the accident scene. Take pictures of road conditions, road signs, traffic lights, skid marks, debris, and other details that may help determine fault.
Gather information. As you may know, if you have been in a car crash, you should get the other driver's vehicle registration, driver's license, and insurance information. It is a good idea to take photos of these documents to make sure that you have accurate information.
Do not edit the photographs. Do not attempt to edit the photos taken at the scene of your car accident, as this may make them inadmissible as evidence. Do not add any filters or otherwise edit the photos.
Contact a Miami Car Accident Attorney
It is advisable to have a knowledgeable attorney on your side to help you gather all available evidence in your case and pursue a successful injury claim.
A Miami car accident lawyer will help you determine fault after reviewing all of your evidence, including photos, and conducting an in-depth investigation. Speak with our lawyers at Pita Weber Del Prado to receive a free case evaluation. Call 305-670-2889 today.