Jury Trial in First Party Commercial Property Insurance Dispute Verdict for $852,000.00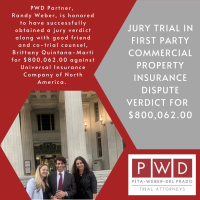 Randy M. Weber is honored to have successfully obtained a jury verdict along with good friend and co-trial counsel, Brittany Quintana-Marti for $852,000.00 against Universal Insurance Company of North America. Ms. Quintana-Marti filed this action on behalf of a 4-building commercial condominium association located on Sunset Drive in Miami due to damages sustained during Hurricane Irma. Unfortunately, Universal Insurance Company of North America refused to extend all of the benefits that Sunset 102 was entitled to following Hurricane Irma. Thereafter, Ms. Quintana-Marti and Mr. Weber litigated this hotly contested and adversarial case for several years. After a 5-days trial, the Jury returned its verdict in favor of Sunset 102 for $852,000.00. According to Florida law, Sunset 102 is also entitled to a separate award of attorney's fees and costs. Therefore, Sunset 102 is entitled to receive its full measure of damages, which will not be reduced by attorney's fees.
The case is currently on appeal at the Third District Court of Appeal and Ms. Quintana-Marti and Mr. Weber are happy to have teamed up with Yelena Shneyderman, Esq., who served as both trial support and Appellate Counsel.  Another special shout out to Nicole Garcia, legal assistant at PWD, who did an outstanding job during this grueling trial!
Once the appeal is decided, we will update this post with the results.
In the meantime, Randy M. Weber and the PWD team stand ready and honored to try cases with our many friends and co-counsel in Miami and throughout the the State of Florida.