Reducing The Risks Of Motorcycle Accidents In Miami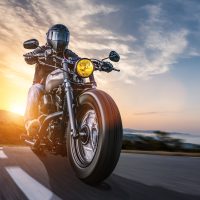 Motorcyclists face significant risks on the road. One wrong move on their part or on the part of other motorists can leave them suffering serious and potentially life-threatening injuries. Motorcycle accidents in Miami continue to happen on an unfortunately frequent basis. During the month of May, which was Motorcycle Safety Month, here are some tips that can help prevent crashes from occurring.
May Was Motorcycle Safety Month 
May was designated as Motorcycle Safety Awareness Month by the National Highway Traffic Safety Administration (NHTSA). As the weather warms, group rides and rallies typically bring an increase of motorcyclists on the road. Unfortunately, this makes motorcycle accidents all the more likely to happen. In many cases, it is the reckless actions of motorists that are to blame.
As part of Motorcycle Safety Awareness Month, drivers are encouraged to be more aware of bikers and to take precautions that can help prevent crashes. This includes:
Respecting the rights of motorcyclists on the road;
Recognizing that motorcycles handle differently than motor vehicles;
Allowing them plenty of space and avoiding tailgating;
Avoiding aggressive driving behaviors such as failing to yield and improper passing;
Obeying all other traffic rules and regulations.
How To Reduce The Risks Of Being Injured In A Motorcycle Accident In Miami
Many Miami residents rely on motorcycles both as a fun hobby and a primary means of transportation. As a rider, you need to be aware of the risks you face on the road. The Florida Department of Highway Safety And Motor Vehicles (FLHSMV) reports more than 1,000 motorcycle accidents each year.
As motorcycles provide little in the way of protection, injuries suffered by bikers in crashes have the potential to be severe. Steps you can take to reduce crash risks and the chances of serious personal injuries include:
Make sure the motorcycle you are riding is the right size for your height and weight;
Avoid getting one with too much power, particularly if you are inexperienced;
Take an approved motorcycle safety course as a refresher;
Invest in an approved safety helmet, gloves, appropriate riding shows, and other gear;
Watch your speed and be particularly cautious in heavy traffic;
Avoid lane splitting, which is illegal in the state of Florida;
When riding with other bikers, give each other plenty of space;
Give reckless or aggressive motorists plenty of space on the road and refuse to let them provoke you;
Avoid riding if you are excessively fatigued, have any amount of alcohol in your system, or if you are on certain types of medications.
Contact Our Miami Motorcycle Accident Lawyers 
Motorcycle accidents can happen despite your precautions and the injuries you suffer can impact you for years after. To get the compensation you need to cover your medical expenses, lost wages, and other costs, reach out to Pita Weber Del Prado. To discuss your rights in filing a claim, give us a call at 305-670-2889 or contact our office online and request a consultation with our Miami motorcycle accident attorneys today.
Sources:
nhtsa.gov/road-safety/motorcycles
flhsmv.gov/pdf/crashreports/crash_facts_2020.pdf