Suing for a Slip and Fall at a Nursing Home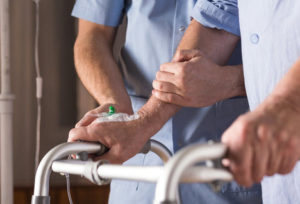 Nursing homes perform a valuable service by caring for the elderly when they are very sick, but there is also the unfortunate association that nursing homes are bastions of abuse, bolstered by regular stories in the news about mistreatment of residents by staff. As a result, people naturally assume that when a nursing home is sued, abuse must be the basis, but just like any other business, these facilities can be sued for negligence related to safety issues. This area of the law is referred to as premises liability, and a legal basis for this liability applies when property owners fail to keep the premises in a safe condition, which leads to an injury. One type that is particularly concerning in this setting is injury caused by a slip and fall. Many of the residents in nursing homes need assistance walking or have brittle bones. In either case, a fall of this kind could easily lead to catastrophic injury. A recent case in Illinois highlights the heightened risk and seriousness of these accidents. A lawsuit was filed by a woman's estate after she died due to complications from a hip fracture that occurred in a fall. However, negligence cases against nursing homes for slip and fall injuries are complicated by factors not necessarily present in other settings. A discussion of what an injured party must prove to win a slip and fall case, and the unique issues the impact nursing home negligence cases, will follow below.
Proving Negligence
All property owners, nursing homes included, generally owe people who enter their premises a duty to keep it safe and secure. Florida, like many other states, determines the exact nature of this duty by the type of person involved in an injury. Nursing home residents would be considered invitees, and this status triggers the highest duty of care imposed by the law. An invitee is someone invited onto the land that provides a material benefit to the owner. Residents must sign contracts to live in nursing homes, and this fact definitively indicates they have permission to enter and remain. In addition, paying to live in these facilities certainly confers a benefit. As a result, landowners have an obligation to protect the residents against known dangers and those identifiable by inspection. This means, for example, leaving water on the floor for extended periods of time or failing to fix a broken staircase, would likely breach this duty. Once it is established a duty exists and it was breached, the next step is to demonstrate this breach caused the injury. The final stage is to prove the plaintiff suffered an injury due to the defendant's actions.
Nursing Home Issues
One of the biggest barriers to suing a nursing home for a slip and fall injury is that many residents are fearful of making a claim because they anticipate retaliation, and thus are reluctant to cooperate with filing a lawsuit. Family and friends facing this situation must be cognizant of this possibility and do what they can to allay the person's apprehension.
Beyond the practical aspect of needing a cooperating victim, already present disabilities possessed by many nursing home residents make it almost impossible to guard against a fall despite the best efforts of the staff. In these circumstances, if a fall occurs, the nursing home could have a legitimate argument that it did not cause the accident. However, these facilities do have the responsibility to develop and implement risk of fall protocols for each resident threatened by this possibility. If the protocol is not followed or is inadequate, the nursing home would likely be liable for any fall-related injury. It is worth noting that if the risk of fall protocol is severely lacking or ignored it could rise to the level of nursing home abuse due to neglect.
Get Legal Advice
If you or a loved one suffered a slip and fall injury at a nursing home, speaking with a personal injury lawyer is crucial to improving the conditions so there is not another injury. The lawyers at the Miami law firm of Pita Weber Del Prado understand the vulnerable position of nursing home residents, and will fight to recover compensation for injuries. Contact the office to schedule a free consultation.
Resource:
cookcountyrecord.com/stories/511012194-symphony-of-crestwood-accused-of-not-properly-addressing-fall-risk