Who Is Responsible When a Pedestrian Is Hit?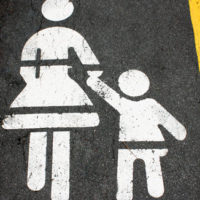 Unless a person lives in a handful of large cities in this country, their world is oriented around car travel, and decidedly not in favor of pedestrian safety. Pedestrians have no chance when hit by a car, and frequently sustain serious or fatal injuries. The victim and his/her family, while initially focused on getting the necessary medical care to stabilize the individual's health, are also likely interested in exploring the possibility of holding the driver responsible for the harm. Personal injury lawsuits are grounded in the notion that people generally owe others a duty to exercise reasonable care to avoid causing injury. Driving is one of those situations when this level of attention is particularly important because the consequences can be so drastic if ignored. A recent report on the number of pedestrian fatalities in 2017 by the Governors Highway Safety Association found annual deaths are some of the highest levels seen in 25 years, with possible causes being the increased use of smartphones and the legalization of recreational marijuana in several States. Unfortunately, with these numbers, people need to know when and how to hold a driver potentially responsible for the injury or death of a pedestrian. A discussion of what an injury victim must show to collect compensation, and who potential defendants in a personal injury case might be, will follow below.
Is the Driver Responsible?
Cars are inherently dangerous objects, and all drivers have a duty to operate them in a safe and reasonable manner. In order for a pedestrian to recover damages if hit by a vehicle, there must be evidence the driver was negligent, or acted in a careless or reckless manner. Disobeying traffic laws, such as not yielding to a pedestrian in a crosswalk or driving on a sidewalk, is evidence of negligence, but does not necessarily indicate the pedestrian did not share some of the fault for the collision. However, one of the largest contributors to car accidents in general is distracted driving, which can include the following types of behavior:
putting on makeup;
texting/sending emails;
eating/drinking;
changing the radio station;
looking at GPS;
dealing with babies/young children; or
talking on the phone.
Fault for an accident may be apportioned between plaintiffs and defendants, and the amount of damages an injured party may receive will be reduced in proportion to the percentage he/she contributed to the accident. Unlike other States, though, injured plaintiffs in Florida will still be entitled to compensation as long as the driver has some degree of fault for the harm caused.
Who to Sue
Someone injured in an accident is likely to think that he/she automatically has the option of suing the other driver for compensation, but Florida law is quite complicated, and limits when an accident victim can hold another party legally responsible. Instead, everyone is first expected to look to their own car insurance providers, pedestrians included, to pay medical bills and lost wages, up to a maximum of $10,000. Anything above this amount may be claimed against the other driver and his/her insurance company, but awards for damages for pain and suffering are extremely restricted, and only permitted in cases of severe permanent injury and disfigurement. Understanding the rules for which parties are subject to suit in vehicle-related accidents is very technical and requires the expertise of a knowledgeable personal injury attorney.
Get Legal Advice
Pedestrian injuries are usually devastating and require a lot of time and resources to heal. If you were injured by a driver and want compensation for your suffering, contact the attorneys at Miami's Pita Weber Del Prado about your legal rights. You have a limited amount of time to take action, so do not hesitate to take the first step and call for advice. Contact us today for a free consultation.
Resource:
ghsa.org/resources/news-releases/pedestrians18