Can I Sue The Insurance Company For Denying My Claim?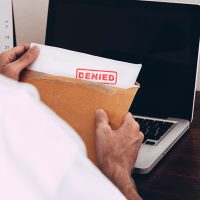 Insurance companies do not always play by the rules. It seems unfair that your insurance company may deny your claim or refuse to provide fair and full compensation when you consistently pay premiums.
However, insurance companies are for-profit organizations that care about their own bottom line. When an insurance company wrongfully denies your claim or violates the terms of your insurance policy, you can sue the insurer for bad faith or breach of contract.
If you believe that your insurance company engaged in bad faith or unfair settlement practices when handling your personal injury claim, do not hesitate to consult with a Miami personal injury lawyer to discuss your legal options.
Why Do Insurance Companies Deny Personal Injury Claims?
After filing your personal injury claim, you will be dealing with the insurance company's claims adjuster. You need to keep in mind that the adjuster represents the interests of their employer (the insurance company that hired them and pays them).
Every insurance company is focused on making profits. And the only way an insurer can make money is by paying claimants as little as possible and denying claims.
The insurance company pays the claims adjuster to handle claims and protect their interests. In other words, the adjuster's job is to carefully review a policyholder's claim and find a valid reason for denying coverage.
Your personal injury lawyer is the only one you can trust. Your attorney is your only advocate when pursuing compensation after sustaining an injury. Our knowledgeable and results-driven lawyers at Pita Weber Del Prado are committed to representing your interests and maximizing compensation for your injuries.
Can I Sue My Insurer for Denying a Personal Injury Claim?
Yes, you can. However, you will need to consult with a lawyer to determine whether the denial of your claim constitutes a breach of contract or bad faith conduct.
A knowledgeable and experienced lawyer will review the facts of your case to determine whether the insurance company had a valid reason to deny your personal injury claim.
In many cases, the claimant whose injury claim has been denied can sue the insurer for breaching a contract or engaging in bad faith insurance practices:
Breach of contract. When a policyholder purchases an insurance policy, they enter into a contract with the insurance company. The denial of a valid claim may constitute a breach of contract. By denying your claim without a valid reason, the insurer may have breached the contract by refusing to provide coverage. Typically, you will need to work with an attorney to examine the language of the policy and investigate the denial of your claim to determine whether the insurer breached the contract. If you win a breach of contract lawsuit against the insurance company that denied your personal injury claim, you will obtain compensation for your injury and may recover damages caused by the wrongful denial.
Bad faith conduct. You can sue an insurance company when it engages in bad faith conduct. In other words, if the insurer fails to handle an injury claim fairly or violates the duty of good faith it owes to its policyholder, they can be sued for engaging in bad faith practices. If you win a bad faith lawsuit against the insurer, the company will be ordered to pay the penalty in addition to providing coverage.
Do not hesitate to discuss your case with our personal injury lawyers at Pita Weber Del Prado if your claim was denied. Our knowledgeable attorneys can help you sue your insurance company for bad faith conduct or breach of contract. Call 305-670-2889 to get a free, no-obligation consultation.