Can You Recover Damages for Your Zipline Accident Injury in Florida?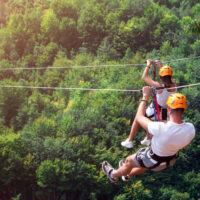 Ziplines are becoming increasingly popular among children and adult thrill-seekers in Florida. For those of you not familiar with this particular attraction, a zipline is an inclined cable or rope with a suspended handle, pulley, or harness down which a child or adult slides.
The ever-increasing popularity of ziplines has contributed to the steady growth of commercial ziplines in Florida and across the United States. According to Claims Journal, the number of commercial ziplines across the nation rose from only ten in 2001 to over 200 in 2012.
Besides, there are an estimated more than 13,000 amateur ziplines in outdoor education camps, backyards, camps, and other non-commercial locations. Unfortunately, a zipline ride can bring not only excitement and fun but also injury.
According to the same study cited by Claims Journal, an estimated nearly 17,000 non-fatal zipline-related injuries were treated in emergency rooms from 1997 to 2012. A zipline injury can potentially entitle you to compensation through a premises liability claim or personal injury lawsuit.
Consult with a Miami personal injury attorney if you or your child suffered a zipline-related injury to pursue compensation for the ensuing damages and losses.
Boy, 10, Injured in a Zipline Accident in Central Florida
One such accident has recently occurred in Lakeland, a city in Polk County. As reported by NBC News, a 10-year-old boy fell from a zipline in a disturbing incident that was caught on camera.
The incident occurred on September 1 when the boy was riding the "Sky Rider" zipline at Urban Air Trampoline and Adventure Park in Lakeland. The boy fell about 15 feet, according to investigators at the Florida Department of Agriculture and Consumer Services. The investigation showed that the boy was not properly strapped into his harness.
More than two months after the horrifying incident, the department announced that Urban Air would be fined $2,500. Under Florida's current law, this is the maximum fine per violation at an amusement park.
After examining the video footage and interviewing Urban Air employees, the investigators concluded that the leg straps were not buckled properly. After dispatch, the boy was riding the zipline by holding his body weight with the arms. However, when arriving at the first dip, the boy lost his grip and fell to the floor.
The family filed a lawsuit against the park operator, claiming that the disturbing incident affected him "mentally, emotionally, and physically." His mother told WFLA that the boy's "life is not the same anymore because of this."
In its statement to WFLA, the company insisted that employees involved in the zipline accident are no longer employed at Urban Air and that all remaining workers have been retrained.
Liability for Zipline Accident Injuries in Florida
Most people and children assume that zipline rides meet certain safety standards, but what they do not realize is that there are no federal safety standards for these rides. Instead, these regulations are imposed by the states. Florida law, for example, sets specific rules for ziplines and other amusement rides, requiring park operators to conduct annual inspections and permitting the state to seize any amusement ride involved in a severe injury.
Also, those who get injured in zipline accidents or while riding other attractions are concerned that their attempts to recover monetary damages will be futile because they signed a waiver of liability. While it is true that you do give up some of your rights, you do not waive all of your rights to seek compensation.
Talk to our Miami personal injury lawyers at Pita Weber Del Prado to establish fault in your amusement park accident and pursue damages from the negligent park operators or employees who failed to supervise patrons properly or maintain their attractions in a safe condition. Call at 305-670-2889 to receive a free consultation.
Resource:
wfla.com/8-on-your-side/it-killed-me-to-watch-it-mom-speaks-out-about-terrifying-video-that-shows-child-falling-from-zip-line-attraction-in-lakeland/
nbcnews.com/news/us-news/florida-boy-10-injured-scary-zip-line-fall-caught-surveillance-n1076536
claimsjournal.com/news/national/2016/08/31/273219.htm
https://www.pwdlawfirm.com/personal-injury/reform-advocates-in-florida-seeking-limits-on-personal-injury-damages/