Causes and Liability in Vehicle-into-Building Crashes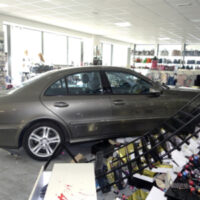 Although vehicle-into-building crashes are not as frequent as other types of car accidents, they do happen. When they do, they cause a great deal of destruction, catastrophic injuries, and fatalities.
Due to the unusual circumstances surrounding these crashes, it can be difficult to determine liability and obtain compensation for all the damages and losses. However, a Miami car accident attorney can help if your home was damaged or you sustained injuries when a vehicle crashed into a building.
Dump Truck Crashes into a Building in Miami-Dade
Last week, a multi-vehicle crash in Southwest Miami-Dade caused a dump truck to crash into a building of an insurance agency. According to WSVN, two people were hospitalized after the accident that involved a total of eight vehicles and occurred just before 9 a.m., Friday.
In the photos from the scene, the dump truck can be seen crashed into the side of the State Farm building along Bird Road, near Southwest 60th Avenue. On the side of the dump truck, a white SUV was seen with severe front-end damage, while a grey sedan with substantial damage was positioned on the other side of the median.
Investigators told WSVN that the dump truck was traveling eastbound when the chain-reaction collision caused the driver to swerve left. As a result, the truck driver cut across all westbound lanes and slammed into the building.
Six people were injured, but only two required medical attention in the hospital. The truck driver suffered minor injuries and was able to walk away unharmed. Rescue crews worked to secure the building of the insurance agency to make sure that it would not collapse when removing the dump truck.
Causes of Vehicle-into-Building Crashes
While vehicle-into-building accidents are rather rare in Miami and elsewhere in Florida, there is a risk of being involved in one in the following circumstances:
The driver is intoxicated
The driver is fatigued or drowsy
There are hazards in the roadway
The road design is inadequate
The vehicle is defective or improperly maintained
However, the most common factor in accidents that involve a car crashing into a building is operator error, which can be caused by distracted driving, falling asleep behind the wheel, and inability to react to road conditions or hazards.
Brake failure is the second most common cause of vehicle-into-building collisions, according to Lohud. Pedal errors by drivers, in which the motorist accidentally hits the gas instead of the brake, are also common in storefront crashes.
The third most common factor is drug or alcohol impairment. Other causes include a medical emergency, vehicles pushing one another into a building, and a "ram-raid" robbery.
Liability in vehicle-into-building crashes depends on the cause of the collision. A Miami personal injury lawyer can help investigate who is at fault for the building crash. Even if you are partially at-fault in the storefront collision, it does not mean that you cannot recover damages in your personal injury claim. Contact Pita Weber Del Prado to establish fault in your case. Call at 305-670-2889 for a free case evaluation.
Resource:
lohud.com/story/news/local/2018/02/27/why-do-so-many-drivers-crash-into-buildings/362650002/
wsvn.com/news/local/2-transported-after-dump-truck-crashes-into-sw-miami-dade-business/
https://www.pwdlawfirm.com/personal-injury/reform-advocates-in-florida-seeking-limits-on-personal-injury-damages/