What Obligations Do Hotels Owe Their Guests?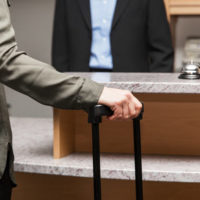 When someone checks into a hotel, he/she expects the proprietor to operate the business in a way that best protects the guest's personal safety and guards against the loss of personal property. These expectations are reasonable, and represent part of the fees paid by a guest. However, when a guest is injured on hotel property, it may be time to consider filing a personal injury lawsuit. Hoteliers have a legal obligation to keep the property safe under premises liability law, and when they fail to uphold this duty, they face potential legal liability. When thinking about personal safety in a hotel, most people envision physical assault by an employee or other guests. While guests should always keep personal safety in mind, there is another potential source of risk that is much smaller and harder to detect – bedbugs. Bedbugs have become a persistent problem at hotels and resorts across the world. A woman who recently stayed at a resort in the Bahamas filed a lawsuit in Florida claiming the resort was negligent in maintaining proper hygiene standards after she suffered hundreds of bedbug bites infesting the bed in her room. Given that staying at a hotel is a rather routine experience for the vast majority of people, it is important to understand when these facilities might be legally liable for an injury to a guest. Consequently, a discussion of the security and cleanliness standards hotels should maintain for the benefit and safety of all guests will follow below.
Security
Part of fulfilling the duty to keep the premises safe for guests, hotel owners/operators must inspect the grounds for the presence of dangers, repair hazards in a timely manner, and notify guests about dangers known or that should be known. Most hotels will address these concerns through inspections by employees, the use of cameras to monitor the grounds, and the presence of private security to deter and handle any danger posed by guests or outside third parties. The use of security measures is especially important and reasonably expected if there were past incidents of criminal assaults. Generally, the law imposes the obligation on property owners, hotels included, to protect the public from accidental, negligent and intentional acts of third parties. Thus, if a hotel failed to maintain operable cameras, hire adequate security, or properly train employees on security protocol, it would likely be liable if any of these lapses resulted in injury to a guest. Further, hiring a security company does not absolve the hotel from responsibility. The legal duty to protect guests from harm cannot be delegated to someone else.
Hygiene
When it comes to sanitation regulation, state law imposes requirements for each guest room. For example, Florida law says that each facility must have potable (safe) water for drinking and cleanliness uses, and working sinks, showers, toilets, etc., for guests. Further, each room must be properly ventilated, heated and cooled for the "health, comfort and safety of the guests." Importantly, all hotels are charged with the specific obligation to institute measures to prevent the introduction and breeding of "vermin" on the property, and if any are discovered in a guest room, to take corrective action immediately to eradicate the pests before releasing the room to another guest. Hotels that do not perform the routine maintenance, cleaning and inspection needed to keep the premises sanitary for guests risk liability for injuries to a guest's health and fines, even closure, from the state licensing agency. While violations of these laws do not automatically establish negligence, breaches of these rules can heavily bolster an injured party's claim.
Get Help
Hotel guests should not have to worry about safety risks from criminal elements or poorly maintained facilities, and if you find yourself an injured victim of an irresponsible hotel owner, talk to a personal injury lawyer about your case. The lawyers at the Miami law firm of Pita Weber Del Prado know how to put together a strong case for these types of injuries. Let us help you get the compensation you deserve. Contact us for a free consultation.
Resources:
miamiherald.com/news/business/article127490954.html
leg.state.fl.us/STATUTES/index.cfm?App_mode=Display_Statute&Search_String=&URL=0500-0599/0509/Sections/0509.221.html