Suing Juul and Other E-Cigarette and Vaping Manufacturers in Product Liability Lawsuits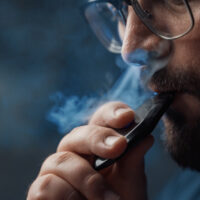 Juul has been dragged into a longstanding product liability litigation amid the mounting pressure on the Silicon Valley startup and other manufacturers of e-cigarettes and vaping devices.
As confirmed by the Centers for Disease Control and Prevention, there have been nearly 2,300 cases of vaping-related lung injuries and 47 deaths this year. Ever since vaping was linked to acute lung injuries in Florida and across the U.S., vapers and e-cigarette users across the country have consolidated product liability lawsuits against major manufacturers and distributors of vaping products and e-cigs.
If you have suffered a vaping-related injury or illness in Miami or other parts of Florida, contact our Miami product liability attorney at Pita Weber Del Prado. You might be entitled to compensation.
Juul Co-Founder Dragged into a Product Liability Lawsuit
Last week, Bloomberg reported that a Florida state court judge ordered the Juul co-founder to answer questions under oath in a longstanding tobacco product liability lawsuit.  The lawsuit involves the estate of Rita Shifrin, who died of smoking-related illnesses.
The estate is suing the cigarette-maker Philip Morris USA. Juul Labs Inc. has challenged the Florida judge's order. It is the first time that Juul has been dragged into the product liability case since it sold a $12.8 billion stake of the company that manufactures Marlboro cigarettes to Altria Group Inc.
Shifrin died of illnesses linked to tobacco use, including coronary heart disease and emphysema, after years of smoking Marlboro, Pall Malls, and Benson & Hedges cigarettes. James Monsees, the co-founder of Juul, was also ordered to bring documents to the deposition.
Product liability attorneys representing Shifrin's estate accuse Altria of purchasing a sizeable stake in Juul for the startup's attractiveness to youth as a way to make up for its declining cigarette sales.
Where Does Juul Stand in the Teen Vaping Crisis?
It is not the first time that Juul has been accused of playing a role in the outbreak of lung illnesses and deaths among teens. In October last year, truth initiative reported that Juul e-cigarettes sales increased more than 600% in just a year.
The startup has come under fire in recent months over claims that it played a role in sparking an epidemic of teen vaping. While health officials are not blaming Juul for the outbreak of acute lung problems among teenagers and young adults, scientists insist that serious injuries and respiratory illnesses have been caused by THC-containing products, according to the CDC.
In other news, President Donald Trump met with vaping stakeholders, medical professionals, and other parties last Friday to discuss a potential ban on all flavored vaping products and raising the purchase age to 21.
According to The Associated Press, the President argued that the flavor ban would spawn counterfeit vaping products sold on the black market. President Trump also reiterated his support for increasing the age limit to 21.
Who's Liable for Your Teen's Vaping-Related Lung Problems?
If your teenage child suffered injury or illness due to vaping or using e-cigarettes, establishing fault is a daunting task. After all, since product liability lawsuits are based on how the product in question was used by the injured consumer, determining liability can be quite complicated.
When a severe lung injury develops over time, proving that vaping or using e-cigs was solely or predominantly to blame can be tough, especially if you do not have a Miami product liability attorney by your side. Let our Miami product liability lawyers from Pita Weber Del Prado look into your case and determine liability for your teen's vaping-related lung illness. Call at 305-670-2889 today.
Resource:
apnews.com/cc22e243519e40b49882a52939abfc0a
truthinitiative.org/research-resources/emerging-tobacco-products/juul-sales-increase-more-600-year-underscoring
fda.gov/consumers/consumer-updates/vaping-illness-update-fda-warns-public-stop-using-tetrahydrocannabinol-thc-containing-vaping
bloomberg.com/news/articles/2019-11-22/juul-co-founder-ordered-to-answer-questions-in-tobacco-lawsuit
cdc.gov/tobacco/basic_information/e-cigarettes/severe-lung-disease.html
https://www.pwdlawfirm.com/personal-injury/liability-for-failing-to-provide-adequate-aid/