Defects And Lack Of Tire Maintenance Contribute To Truck Accidents In Miami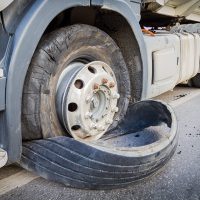 Truck accidents in Miami occur on an alarmingly frequent basis and pose serious risks to other motorists. Tire problems are one of the most common causes. Find out how tire defects and lack of maintenance increase truck accident risks in our area.
Tire Blow-Outs A Common Factor in Miami Truck Accidents
According to statistics from the Florida Department of Highway Safety and Motor Vehicles (FLHSMV), close to 8,000 truck accidents in Miami-Dade County happen each year. Considering the massive size of most big rigs, these crashes can end up impacting multiple other motorists. While speeding, drowsy driving, and distracted driving are among the leading causes, tire problems are another common contributing factor.
Tire blowouts are a frequent issue among truck drivers and can send debris flying on the road, where it can potentially strike other vehicles. Swerving and loss of control of the truck typically happen as a result, increasing crash risks. Among the most common problems that can cause tires to malfunction:
Manufacturing defects: Tires are continually being recalled due to defects that can cause or contribute to truck accidents.
Improper loading practices: Overloading and not distributing weight equally put additional pressure on tires;
Lack of proper maintenance: One of the most common contributing causes of truck accidents in general, failing to provide routine maintenance of tires increases the likelihood of blowouts.
Who Is Responsible When Blow-Outs Or Other Tire Issues Result in Truck Accidents?
Tire manufacturers can be held liable for tire blowouts that occur due to product defects, such as missing components and tread or steel belt separations. The trucker and trucking company can also be held responsible when improper loading and lack of maintenance play a role in a crash.
Lack of maintenance is a particularly common problem and makes tire blowouts more likely in general. It also increases the risk when truck drivers go over the speed limit, take too sharp of turns, change lanes or swerve to avoid traffic, or come to sudden stops. According to Fleet Equipment, a leading supplier to the trucking industry, among the leading maintenance issues that can result in excessive wear and tear and increase the likelihood of truck accidents include the following:
Not routinely checking tire pressure and treads;
Over or under-inflating;
Using different size tires on one or more wheels;
Problems with truck steering alignment, faulty brakes, and other mechanical issues.
To Get Compensation For Your Injuries, Contact Our Miami Truck Accident Lawyer
Truck accidents in Miami can result in serious, potentially life-threatening personal injuries. At Pita Weber Del Prado, we conduct a full investigation into your case, to determine how it happened and who is responsible.
When tire defects cause or contribute to a crash, tire manufacturers, the trucking company, and the truck driver may all share liability. To get the compensation you are entitled to, reach out to our Miami truck accident lawyer. Call 305-670-2889 or contact our office online to request a consultation today.
Source:
flhsmv.gov/pdf/crashreports/crash_facts_2020.pdf
fleetequipmentmag.com/nine-truck-tire-issues/