Traffic Deaths More Common After Shifting to Daylight Saving Time, a Study Suggests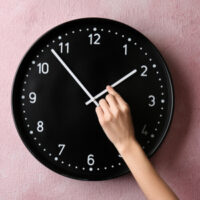 A new study suggests that traffic deaths are more common in the U.S. immediately following the shift to Daylight Saving Time. But why does setting our clocks forward one hour cause more fatal traffic accidents in the country?
Traffic fatalities are more likely to occur in Florida and across the U.S. after clocks spring ahead for daylight saving time, according to researchers at the University of Colorado Boulder. The study analyzed data on nearly 733,000 deadly car accidents between 1996 and 2017 and found that the risk of fatalities was about 6% higher in the week after shifting to daylight saving time.
Increased Risk of Death After Shifting to Daylight Saving Time
The study estimated that eliminating daylight saving time (not changing clocks every year) might prevent 28 fatal traffic collisions a year. The team of researchers noted that the springtime shift is associated with unsafe driving behaviors as well as increased risk of heart attacks, workplace accidents, and even suicides.
After examining data from the federal Fatality Analysis Reporting System, researchers found that the increased risk of traffic deaths amounted to an additional 5.7 fatal crashes a day on Monday through Friday in the week following the shift to Daylight Savings Times.
Changing clocks in the spring may induce the so-called "mini-jetlag," which causes harm to the functioning of the body because of its forced wake and sleep cycles being out of sync with the biological clock.
Over the 22 years examined by researchers, an estimated more than 626 fatal car accidents out of 8,958 might have been prevented. However, the study lacked data on how long drivers had been behind the wheel at the time of their fatal accident or how fatigued or drowsy they were.
Signs of Drowsy Driving or Driver Fatigue
Drowsy driving is estimated to cause more than 70,000 vehicle crashes across the U.S. and is responsible for about 44,000 injuries and 800 deaths every year. Other studies, however, estimate that up to 6,000 traffic deaths each year may be caused by fatigued and drowsy drivers.
These are common signs of driver fatigue and drowsy driving:
Having trouble concentrating on the road;
Having wandering thoughts;
Consistent yawning;
Struggling to keep one's eyes open;
Having difficulty keeping one's head up;
Inability to remember the last few miles;
Weaving between lanes; and
Falling asleep behind the wheel.
Drowsy drivers lack the ability to react in time to avoid a collision with other vehicles or fixed objects, such as a guardrail or tree, in single-vehicle accidents. A fatigued driver who has fallen asleep may fail to apply the brakes, causing severe injuries or wrongful deaths to anyone on his/her path, including pedestrians.
An exhausted, sleepy, or fatigued driver can be held accountable for damages they caused as a result of drowsy driving. A Miami car accident attorney at Pita Weber Del Prado will investigate your case and prove the drowsy driver's fault. Contact our law offices to schedule a consultation. Call at 305-670-2889.
Resource:
aaafoundation.org/prevalence-motor-vehicle-crashes-involving-drowsy-drivers-united-states-2009-2013/
one.nhtsa.gov/Driving-Safety/Drowsy-Driving/Research-on-Drowsy-Driving
https://www.pwdlawfirm.com/car-accidents/driving-in-the-fog-in-florida-dangers-safety-tips-and-liability/