Is It Illegal to Wear Headphones While Riding a Bicycle in Miami and Florida?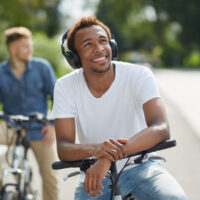 It is not uncommon to see bicyclists wearing headphones on the streets and sidewalks of Miami. While many cyclists enjoy listening to music while riding a bicycle, doing so is not legal in the state of Florida.
Riding a Bicycle with Your Headphones On is Dangerous
The dangers of riding a bike while listening to music were evident in a 2019 bicycle accident in Delray Beach, a small city on Florida's southeast coast. According to The Palm Beach Post, the deadly accident occurred on September 11, 2019, when a 9-year-old cyclist collided with a large construction vehicle.
In February 2020, the Delray Beach police department issued a report that concluded more than five months of investigation. The report stated that the driver of the construction vehicle was not at fault for causing the deadly car crash near the Atlantic Crossings commercial development.
According to the report, the boy was riding his new bicycle with his earphones on when he was struck by the 16-ton front loader. The vehicle, which is used to move asphalt, dirt, and debris, was carrying pipes for a water main at the time of the collision.
Is Wearing Headphones While Riding a Bicycle Illegal in Florida?
Under the Florida Statute Section 316.304, it is prohibited to operate "a vehicle" while wearing:
Headphones;
Earbuds;
Headset; or
Any other listening device.
The only exception to the law is a hearing aid or instrument used by deaf individuals or those with hearing problems. But what about bicycles? Under the Florida Statute Section 316.2065, a bicycle is defined as a "vehicle" while bicyclists are treated in the same manner as car drivers. Thus, it is illegal to wear headphones, earbuds, and other listening devices while riding a bicycle, driving a passenger car, or any other vehicle.
The same rule applies to motorcyclists to prevent motorcycle accidents in Miami and other parts of Florida.
Exceptions to Florida's Illegal Biking with Headphones
There are several exceptions to the law:
You are permitted to wear instruments or devices that enhance human hearing;
You are allowed to wear the headset or earbud in one ear only to answer calls on your cellphone; and
You can wear headphones while riding a bike on a sidewalk or bicycle path that is not part of the road.
In the eyes of the law, cyclists riding their bike anywhere other than a roadway have the same rights as pedestrians. Meanwhile, bicyclists who ride on the roadway have the same duties and responsibilities as other drivers.
The state law that prohibits the use of headphones while riding a bicycle in Miami and elsewhere in Florida makes sense because, like car drivers, cyclists wearing headphones may not be able to hear horns or other important sounds or signals on the road.
Also, wearing headphones to listen to music, podcasts, or anything else, can distract your attention from the road. Traffic fatalities caused by distracted driving account for nearly 8% of all deaths on U.S. roads, according to the National Highway Traffic Safety Administration.
If you are a bicyclist who was injured after being struck by a motor vehicle, do not hesitate to contact a skilled Miami car accident attorney to talk about your particular case. Schedule a consultation with our experienced lawyers at Pita Weber Del Prado by calling at 305-670-2889.
Resource:
palmbeachpost.com/news/20200506/distracted-boy-rode-bike-into-vehicle-causing-fatal-crash-delray-police-say
nhtsa.gov/risky-driving/distracted-driving#:~:text=Overview,400%20pedestrians%20and%2077%20bicyclists.&text=Percentage%20of%20drivers%20using%20handheld,down%20from%203.3%20in%202016
https://www.pwdlawfirm.com/car-accidents/driving-in-the-fog-in-florida-dangers-safety-tips-and-liability/