Miami Truck Accident Lawyer
Commercial trucks are different from other vehicles due to their large size.  In fact, the Federal Motor Carrier Safety Administration indicates that most 18-wheelers, or tractor-trailers, often weigh 10,000 pounds or more and can be unwieldy on the highways.  As a result of their large size and weight, when they're involved in traffic collisions with smaller passenger vehicles, commercial trucks can cause catastrophic injuries. Contact our Miami truck accident lawyers today.
Since large trucks can cause severe and life-threatening injuries, they're subject to certain state and federal laws that are supposed to ensure the safety of truckers and other drivers on the Florida roadways.  According to the Florida Highway Patrol, the following represent basic requirements for operating a commercial truck in the state of Florida:
The vehicle must have a valid and current tag registration
If the vehicle combination weighs more than 26,001 or if its power unit has three or more axles (regardless of its weight), the vehicle must have a Department of Highway Safety and Motor Vehicles fuel decal if it's operating interstate
The vehicle must be of a correct size and weight
All parts and equipment in the vehicle must be in a safe working condition
The vehicle must display a valid Florida or USDOT number
Given that Miami truck accident cases often cause catastrophic damage, auto accident victims may be eligible to receive substantial compensation.  At the law firm of Pita Weber Del Prado, our experienced truck accident lawyers serving Miami can discuss your claim with you today.
Commercial Truck Requirements in Miami
Under Florida law, a commercial vehicle is defined as one that satisfies one of the following three criteria:
Has a gross vehicle weight rating of 10,000 pounds or more
Is designed to transport 15 passengers (including the driver), or
Is used to transport hazardous materials
Under Florida law, if a commercial truck exceeds its weight limit, it will be required to have a special permit.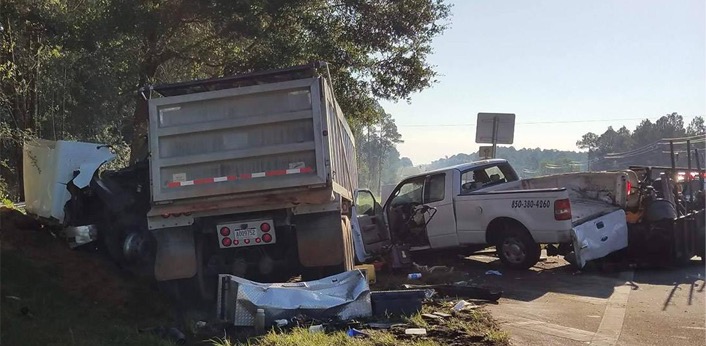 As we mentioned, both state and federal laws apply to the commercial trucking industry that aren't applicable to other vehicles on the roads.  When a vehicle has been classified as a "commercial truck" based on its gross vehicle weight rating—usually meaning a truck that weighs at least 10,000 pounds—it likely will be subject to regulation by the U.S. Department of Transportation (USDOT) if it's making interstate trips.  A vehicle that operates "intrastate" only operates in Florida, while a vehicle that operates "interstate" transports materials to destinations outside of the Florida borders.
Safety inspections are an important part of preventing a Miami truck crash.  Under Florida law, trucks are subject to roadside inspections as well as compliance reviews.  If they're found to be in violation of any rules or regulations, the truck and/or its driver can be taken out of service, penalties can be assessed, and serious fines and citations can be issued.
What gets inspected?  When it comes to the truck driver, Florida state troopers will check to make sure that the driver:
Has a valid Commercial Driver's License
Has an up-to-date medical certificate
Has valid shipping papers if transporting hazardous materials
Is keeping a log book, or record duty status
Is wearing a seat belt
Is not in possession of drugs or alcohol
Is not carrying unauthorized passengers
When it comes to the commercial truck, the following elements require maintenance and are likely to be subject to inspection:
Hazardous materials safety supplies (for instance, is the truck properly marked as carrying hazardous materials, and is it free of spills, leaks, and unsecured cargo?)
Brakes, steering, suspension, frame, body components
Mirrors
Lights and horn
Fuel and exhaust systems
Tires and wheels
Emergency equipment
Commercial Truck Insurance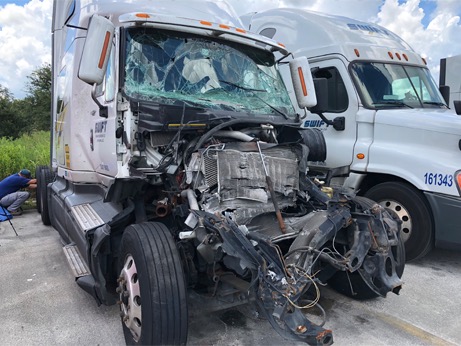 According to the Federal Motor Carrier Safety Administration (FMCSA) and federal law, commercial trucks must carry a minimum amount of insurance.  Depending on the type of vehicle, its weight, where it travels, and what it carries, federal law can require anywhere from $750,000 to $5,000,000 in insurance coverage.
Contacting a Miami Truck Accident Lawyer
Truck accidents can happen for many different reasons, but according to data gathered by the National Highway Traffic Safety Administration (NHTSA), truck accidents often result from the driver's negligence.  This can take the form of speeding, making improper turns, unsafely changing lanes, making right-of-way errors, and failing to obey traffic signs or traffic signals.
Have you sustained injuries because of a truck driver's negligence?  Don't hesitate to contact an experienced Miami truck accident lawyer.  Contact the law firm of Pita Weber Del Prado today to learn more about filing a claim for financial compensation.