Recovering Damages After a House Fire in Miami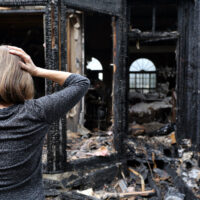 A fire department responds to a fire every 24 seconds in Miami, Florida, and other parts of the U.S. Statistics show that fires in structures that are not linked to wildfires cause more than $11 billion in property damage per year.
Each year, house fires damage thousands of homes and disrupt hundreds of thousands of lives. Some of these fires are accidental, while others occur as a result of someone's negligence. Either way, a house fire can result in serious injuries and unbearable property damage costs.
When this happens to you or your family, it is essential to speak with a Miami serious injury attorney from Pita Weber Del Prado to establish fault and fight for compensation under your homeowner's coverage.
House Fire in Miami Without Injuries
This past week, a house fire made headlines in Miami. As reported by WSVN, a fire broke out in a Southwest Miami-Dade home near Kendall Lakes Circle and Southwest 66th Street.
Neighbors called a fire department after they heard something that sounded like a loud explosion. The flames were extinguished shortly after the firefighters arrived. Luckily, no one was injured in the Miami fire, while the cause of the incident remains under investigation.
When recovering damages after a house fire in Miami, it is critical to establish the type and cause of the blazes. Fires can be accidental, caused by arson, and caused by defective products.
Accidental House Fire
The vast majority of house fires in Miami are purely accidental and are the result of negligent cooking, using kitchen appliances, or smoking in the home. In some cases, these house fires occur when lightning strikes a building or structure.
In some cases, a house fire can occur when someone forgets to turn off the oven or stove. In other cases, fires are caused by short-circuited appliances. Even something as harmless as smoking in the bedroom can cause the house to engulf in flames.
If a house fire occurred and caused your burn injuries or other serious injuries, a Miami serious injury attorney would hire forensic scientists to determine what started the fire by investigating burn patterns.
Yes, it is true that most accidental fires occur through the fault of the homeowner. However, under Florida law, a homeowner may still recover damages by filing a homeowner's or tenant insurance claim.
If you are the tenant whose fault caused a house fire, you could be sued by your landlord for the resulting damages.
House Fires Caused by Arson
Not all fires are accidental. In some cases, fires are caused by arson when someone intends to harm another person's property or wants to receive payment through their homeowner's insurance.
Florida law defines arson as willful and unlawful damage caused to a home structure or causing a fire while committing a felony.
Insurance companies often argue that a house fire was caused by arson to deny liability claims filed by homeowners. That can lead to insurance coverage disputes between homeowners and insurers.
Fires Caused by Defective Products
Things become more complicated from a liability standpoint when a defective product (e.g., faulty appliances, tools, or electronics) cause house fires.
For example, gas leaking from a faulty oven can cause a fire, while a defective smoke detector can allow flames to spread quickly. When defective products cause a house fire and any resulting injuries and damages, the injured party may be entitled to compensation under product liability law.
Before taking legal action, consult a Miami serious injury attorney to determine if a third party, such as the manufacturer of the defective product that caused the fire, can be held liable to maximize your financial recovery.
In addition to property damages, house fires can cause serious burns and injuries stemming from chemical exposure and smoke inhalation. Contact Pita Weber Del Prado to discuss your particular case. Call at 305-670-2889 or fill out our contact form to receive a free consultation.
Resource:
leg.state.fl.us/Statutes/index.cfm?App_mode=Display_Statute&URL=0800-0899/0806/Sections/0806.01.html
wsvn.com/news/local/firefighters-extinguish-blaze-at-sw-miami-dade-home/
iii.org/fact-statistic/facts-statistics-fire
https://www.pwdlawfirm.com/premises-liability/proving-a-dangerous-condition-in-personal-injury-cases/