Liability for Your Injury While Riding an Airport Shuttle Bus in Miami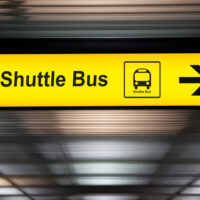 Riding a shuttle bus is a more convenient and cheaper alternative to taxis. However, you and other passengers may end up suffering a serious injury when a bus driver or another motorist's negligence causes an accident.
More often than not, bus shuttles are owned by airline companies. Like in all other airplane accidents, multiple parties may be held liable for your injury in a bus shuttle crash, including the operator of the shuttle, the airline that owns the bus, the manufacturer of the vehicle, or even the airport.
Here at Pita Weber Del Prado, we represent clients in Miami and throughout Florida, including injured tourists, to help recover damages after airport shuttle bus or other aviation-related accidents. Contact our Miami plane accident attorney to discuss liability in your particular case.
Multiple Injured in a Miami Airport Shuttle Bus Crash
Accidents involving shuttle buses are not as uncommon as you think. This past weekend, multiple people sustained injuries in a violent collision involving a car and a shuttle van near the Miami International Airport.
As reported by NBC Miami, the collision occurred when the car slammed into the back of the shuttle bus just outside the airport. Investigators confirmed that the shuttle bus was an aviation employee vehicle.
Victims, who had to be rescued and extracted from the bus, were hospitalized with life-threatening injuries. As a result of the violent crash, the front-end of the car was destroyed, while the shuttle bus also sustained critical damage.
Why Do Shuttle Bus Accidents Occur?
Shuttle buses tend to be at a bigger risk of accidents, particularly rollover accidents, due to their higher center of gravity. The higher center of gravity combined with driver negligence and error is a recipe for disaster.
Such factors as speeding, distracted driving, reckless driving, and the lack of proper training and qualification can contribute to collisions involving shuttle buses in Miami and elsewhere in Florida.
The monotony of operating a shuttle bus and driving the same route over and over again can cause the bus driver to become less attentive. In addition to that, there are many shuttle buses in Miami that lack seat belts and other passenger restraints, which can aggravate the injury.
Although authorities say that bus passengers are safer without restraints, let's not forget that shuttle buses are about half the size of a large bus. In the event of a rollover crash, the lack of seat belts increases the likelihood of a catastrophic personal injury or wrongful death.
Determine Liability for Your Injury While Riding a Shuttle Van
Given that there are different causes of shuttle bus accidents, it is critical to pinpoint the factors that contributed to your crash. That is why hiring a Miami plane accident attorney is imperative in your pursuit of justice and fair compensation.
Here at Pita Weber Del Prado, our detail-oriented and attentive lawyers will not only study the accident scene and examine the vehicle damage but also interview witnesses and access onboard videos and footage from nearby cameras to determine negligence.
An injury claim filed by an injured passenger of an airport shuttle bus is more complicated than those filed by victims of regular bus accidents are. That is because commuter shuttle companies are classified as "common carriers," which have a heightened duty to ensure the safety of their passengers during the ride.
Speak with our Miami aviation accident lawyer at Pita Weber Del Prado to investigate your case and find evidence that the shuttle company or another liable party breached its duty of care. Call at 305-670-2889 for a free case evaluation.
Resource:
nbcmiami.com/news/local/Several-Injured-in-Bus-Crash-Near-Miami-International-Airport-Police-Say-563944301.html
https://www.pwdlawfirm.com/premises-liability/proving-a-dangerous-condition-in-personal-injury-cases/